Medvedev to boycott Lukashenko at Yerevan Summit
By Mzia Kupunia
Tuesday, August 17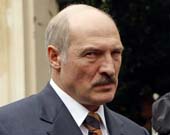 Russian President, Dmitry Medvedev is planning to boycott his Belarusian Counterpart, Alexander Lukashenko at the upcoming Collective Security Treaty Organisation summit on August 21-22, the Russian media reported on Monday. According to Russian media outlets, the reason for boycotting Lukashenko, is his failure to meet a promise to recognise Georgia's breakaway regions of Abkhazia and South Ossetia as independent states. Dmitry Medvedev is not planning to meet Lukashenko at the summit in Yerevan, Russian
Kommersant
reported, attributing a source from the Russian Foreign Ministry.
Kommersant
also reported on the possibility of Lukashenko canceling his participation in the Summit in Armenia. However to date, the Administration of the Belarusian President has not made any comments on the issue. "We do not comment on rumours spread by the press, but give accurate information. Information will be posted on the official website of Belarus President," Armenian news agency
News.am
quoted the representative of Lukashenko's press service as saying.
Earlier in August the Russian President accused Lukashenko of failing to fulfill his promise to recognise Abkhazia and South Ossetia as independent states. Lukashenko promised to recognise Sukhumi and Tskhinvali as independent in the presence of several CIS leaders, Medvedev said. Later the Kremlin aide, Sergey Prikhodko said that Moscow was ready to release the transcript of the Collective Security Treaty Organisation (CSTO) meeting, where the Belarus President expressed his readiness for the recognition, information agency RIA Novosti reported.
However, the Belarusian President denied having given any promises to Kremlin. "I told him [Medvedev] that it was not a problem for Belarus to recognise Abkhazia and South Ossetia as independent states, it is not a problem even today. However I told him a list of the problems which Belarus might face afterwards in terms of Belarus-EU, Belarus-USA and Belarus-CIS and so on. We have been working on these issues for two months and revealed a number of problems," Lukashenko told journalists in Minsk on August 14.
Commenting on Medvedev's statements, the Belarusian President said he asked his Russian counterpart if Moscow would "take responsibility for the problems and help Belarus to overcome them if they occur." "However Russia appeared to be unable to do so or the Russian Government did not want to help eradicate the consequences [of recognition] which might have had occurred," Lukashenko noted. "Anyway, I did not give a solemn promise, no-one heard one. Promising solemnly means that everyone hears it." Lukashenko talked about the recognition but in the abovementioned context, "If Russia had made some steps towards us, probably the situation would have been different,"
RIA Nosovti
quoted Belarusian leader as saying.
Meanwhile the Russian TV channel, NTV broadcast the 3rd part of a documentary film "Krestny Batka" ("Godfather"), dedicated to the Belarusian President, Alexander Lukashenko. The documentary criticises Lukashenko and his administration, portraying the Belarusian President as a dictator.