Saakashvili on the "Education Revolution"
By Mzia Kupunia
Tuesday, August 17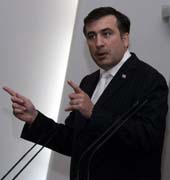 Georgian President Mikheil Saakashvili spoke about the "education revolution" in Georgia late on Sunday. Speaking at a meeting in Batumi with the native English speaking teachers of the programme Teach and Learn with Georgia, Saakashvili named teaching English language to "every school child" in Georgia as a main priority in the education system. The programme Teach and Learn with Georgia envisages bringing 1000 native English speaking volunteer teachers to Georgia for the academic year 2010-2011.
Teaching English language to Georgian children is a "main precondition" for Georgia's development, Saakashvili noted. "The main requirement is that all children from the age of 5 to 16 speak English. It means that English will be their second language. This will be achieved over the next four years. It will enable us to advance Georgia and to make the biggest steps forward of the post Soviet countries over the next decade," Saakashvili said at the meeting.
He compared the Teach and Learn with Georgia programme with Georgian King Davit Agmashenebeli's decision to settle 50 thousand Kipchaks from the North Caucasus region. "As a result of resettling the Kipchaks, Georgia's modernisation became an irreversible process. Now bringing about 10 thousand native English speaking teachers to Georgia over the coming three years is an event on the same scale," the Georgian President said. "If during the period of Davit Agmashenebeli the competitiveness of the country was measured by military criterion, today education is the main criterion. What we are doing in Georgia now [in terms of education] and what we will do in the next several years is a real educational revolution. Something like this has not been done in any of the post Soviet states, he added.
The Georgian President pointed out that "considering today's requirements, the most needed languages for the next stage will be Chinese, Arabic, Turkish and Russian." He said, "However the first, main and minimal requirement is that all children of the age 5-16 living in Georgia will be English speakers with full computer skills," adding, "I think that if done properly, it will be the biggest breakthrough for Georgia since the resettlement of the Kipchak tribes."
The Georgian Education Ministry launched Teach and Learn with Georgia project in 2010. According to Ministry officials, the aim of the programme is to improve the quality of education in the country. "In order to foster the educational reforms currently underway at the Ministry, the MES has an ambitious initiative to develop and promote the English language teaching process in Georgia through the project "Teach and Learn with Georgia", the note posted on the programme website reads; it continues, "The Government of Georgia strongly believes that the successful implementation of this program will have a profound impact on Georgian youngsters and the entire country, resulting in adopting and sharing Western values and culture, together with the language proficiency."