Latvian Environment Minister visits Georgia
By Mzia Kupunia
Wednesday, August 18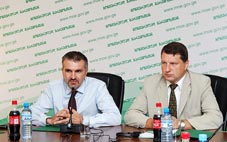 Latvian Environment Ministry Raimond Vejonisis is on a three-day visit to Georgia. Vejonisis arrived in Tbilisi on Tuesday and had an official meeting with his Georgian counterpart Goga Khachidze. According to Georgian Environment Ministry officials, the purpose of the visit is to attract European investment for natural resources' management and to become familiar with Georgia's natural resources, as well as it's judicial and regulatory issues.
"Latvia is well known as one of the most advanced countries in the forestry sphere and the meetings in Georgia envisage reaching specific agreements in terms of working out a programme for training staff in forest management and sharing Latvia's experience in this field," the Georgian Environment Ministry official statement reads.
"Our aim is to share the experience of the European Union member state and be introduced to the interesting systems which might be successfully implemented in our reality," Georgian Environment Minister, Goga Khachidze said after the meeting with his Latvian Counterpart.
"We signed an agreement on mutual cooperation with Georgia two years ago and the agreement is in force now as well," the Latvian Environment Minister said "Currently our aim is to strengthen relationships between Georgia and Latvia," Vejonisis added.
According to the Ministry press service, as part of the visit, the Georgian side plans to offer the Latvian delegation an introduction to the Adjaran protected territories – Kolkheti, Mtirala and Kintrishi national parks and provide specific tours. "These activities are aimed at attracting tourists from Latvia and fostering eco-tourism in Georgia. The Latvian delegation will also visit the Adjaran coastline infrastructure and be introduced to the Black Sea water quality control system," according to the Georgian Environment Ministry statement.