Saakashvili on "excellent" relations with Moldova and Belarus
By Mzia Kupunia
Wednesday, August 18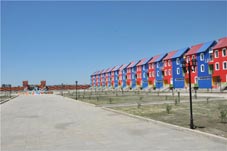 Georgia and Moldova, as well as Georgia and Belarus, have "excellent" relations, the Georgian President, Mikheil Saakashvili said late on Monday at the Black Sea resort of Anaklia. The Georgian President visited the resort together with the Moldovan acting President Mihai Ghimpu to meet a group of young people from Moldova and Belarus at the Anaklia youth camp.
During his speech in Russian, Saakashvili drew parallels between Moldova and Georgia, saying that the two countries have similar kinds of problems and the same economic situation. "It is very good that now Moldova has finally found its direction and vision on how to overcome all of these challenges," the Georgian President said, adding that he is "certain Moldova will be developing at a high speed and Georgia will follow its example."
"We are independent states, maybe not fully independent territorially, as far as part of our territories are in 'an old Soviet zoo', however the greater part of our territories of our countries are free, which means there is hope and it is in our own hands," the Georgian leader noted in a televised speech "We love the Belarusian, Moldovan, Ukrainian, Azeri, Armenian, Russian people – we love all the people who lived in the joint state – Soviet Union, and no matter what kind of political differences and conditions are, we should overcome them," Saakashvili added.
The Georgian President touched upon the issue of the situation in Georgia following the 2008 August war, noting that just a few kilometers from the youth camp in Anaklia "there is a wall with tanks deployed beyond it." "These are the tanks which were shooting not so long ago and it is very tragic, because if in the 21st century mankind did not learn not to build walls at the beaches and not to deploy tanks and rockets there, then it is obvious that it has not learnt anything at all," Saakashvili said.
Georgia manages to develop because it is independent, the Moldovan leader said in his speech in Anaklia. Ghimpu thanked the Georgian President for helping the regions in Moldova damaged by floods in June and for hosting the Moldovan children from those regions. "There have always been people in Georgia, for whom friendship is a sacred feeling," Ghimpu told the young people in the camp "you are the future leaders of your countries and you should know what friendship is. The land is enough for everyone. Unfortunately, there are states which have enough land of their own but still want to invade others' land. You should not repeat this. You should know that the greatest happiness is freedom," said the acting President of Moldova.