Public Defender critical of Kakabadze's detention
By Messenger Staff
Thursday, August 19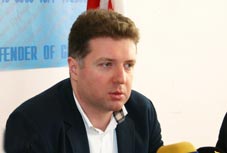 The Georgian Public Defender's Office released a special statement on August 17, following the brief detention of a writer and civil activist, Irakli Kakabadze and two others earlier on August 14. Irakli Kakabadze, Aleko Chighvinadze and Shota Dighmelashvili were arrested while they held a protest rally demanding the renaming George W. Bush Street after an American poet Walt Whiteman. The protesters painted over the George Bush banner as a sign and read Whiteman's and their own poems at the demonstration.
The police arrested Kakabadze, Chigvinadze and Dighmelashvili and the court fined them GEL 400 each for disobeying the police. However according to the Public Defender's Office statement the video footage shot during the incident shows that the participants of the rally had not hindered the movement of traffic and not shown any resistance to police officers during the arrest. "The court did not satisfy the petition of the defence lawyers to present the video footage at the court hearing – it would make clear the actions of the rally participants and the police for the judge," Public Defender's statement reads.
On August 18, Civil.ge released the comments of the Interior Ministry Spokesperson, Shota Utiashvili, who denied Kakabadze's claims of being "verbally and physically insulted" during the detention. "His [Kakabadze's] arm was slightly hurt, from when the police officer grabbed his arm during the arrest. There was no violence whatsoever and he was not physically insulted," Civil.ge quoted Utiashvili as saying.
As for the claims of the Public Defender that the rally participants had not disobeyed the police, according to the Civil.ge the Interior Ministry Spokesperson said that "although there was no resistance to the police at the moment of arrest, the protesters disobeyed earlier orders from the police asking them to leave a traffic safety lane – the protesters stood in this lane at the traffic junction on George W. Bush street."