Tbilisi-Moscow-Tbilisi by Air
By Salome Modebadze
Friday, August 20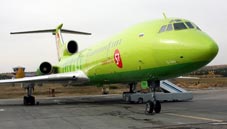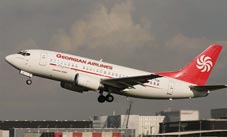 Airzena - Georgian Airways will carry out scheduled flights Tbilisi-Moscow-Tbilisi three times a week from August 20. Twenty flights from Tbilisi on Boeing-737 aircraft until September 15 have already been arranged. Head of the United Transport Administration of Georgia Irakli Davitadze explained that these are not regular flights but scheduled according to a particular sequence. "Discussions about establishing regular flights between Tbilisi and Moscow can't even be considered nowadays but Airzena started carrying out charter flights three times per week from 10:30 a.m. on August 20 while Siberia Airlines will start from August 23," Davitadze stated.
The Russian Federal Air Transport Agency has given a green light to Russian S7 Siberia Airlines to run regular flights between Moscow and Tbilisi so that the Russian carrier can fly along with Georgian Airways on an equal basis. In the 2010 summer season each company will fly between Moscow and Tbilisi three times a week, S7's press service said. "S7 Airlines will conduct flights to Tbilisi on Mondays, Thursdays and Saturdays by Airbus A319 aircraft. The departure time for flights from Moscow is 10:25 Moscow Time while the departure time from Tbilisi is 14:00 local time," S7 said in a statement.
The representative of Siberia Airlines in Georgia, Paata Kamarauli didn't deny the possible resumption of flights from Moscow to Batumi and Kutaisi which the company had been conducting during 2007-2008. "If the Tbilisi-Moscow flights are productive and there is a need for flights to Batumi, then we will restore them," Kamarauli told the media, adding that there has been a great demand for tickets to Tbilisi and almost all the tickets (approximate price USD 250-365) for August 23 have been already sold.
Direct flights between Georgia and Russia were temporarily postponed in 2006 due to the worsened relations between the neighboring countries. Air travel was restored for a short time in 2008 but finally halted after the Georgian-Russian War in August 2008. Moscow and Tbilisi gave permission for the resumption of scheduled flights after they allowed a number direct charter flights between the two capitals earlier in the year. Airzena - Georgian Airways has been the only company which still conducted flights to Moscow at Christmas and Easter. Airzena flew Tbilisi-Moscow-Tbilisi 12 times in May-June 2010.