Opposition vs. Authorities over Russia
By Salome Modebadze
Tuesday, August 24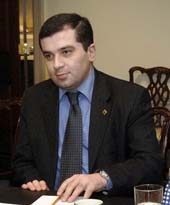 Georgia is ready to solve its problems with Russia through dialogue, but cannot start negotiations from a blank page – Georgia's Speaker of Parliament, Davit Bakradze stated for Russian online media
Vremia Novostei
, on August 23.
"It's hard to speak with a country that has embassies on our territories – in Sokhumi and Tskhinvali, that deploys armed units without our consent and that controls a fifth of Georgia. We can start negotiations by discussing the issue of withdrawal of these military forces and the prospects for solving the conflicts. Discussions on opening borders, resuming flights, everything that will be useful for common citizens will be possible afterwards, but these are not the most important issues for our relationship," Bakradze stated.
The Speaker of Parliament mentioned that in its recognition of Abkhazia's and so called South Ossetia's independence Russia made a political mistake and entered a deadlock, "Despite having levers to pressurise, Russia was not supported by any of its main partners in following its decision," Bakradze said.
Bakradze went on to state that the visits to Moscow by members of Georgia's opposition were viewed negatively by the Georgian people, "Georgia is a democratic country and politicians can do whatever they want. The people decide on Election Day. 30 May showed that people viewed the visits negatively, "Bakradze said. He also spoke about matching Georgian and Russian interests. The Parliamentary Chair noted that peace in North Caucasus is in the interest of both Georgia and Russia and should Russia encourage separatism in Georgia it will be flung back like a boomerang against Russia in the North Caucasus.
Opinion in some parts of the Georgian opposition differs considerably from the government standpoint. As one of the leaders of Movement for a Fair Georgia, Petre Mamradze told The Messenger, "Despite the fact Bakradze is Georgia's Parliamentary Speaker, he has no influence and he simply says what Saakashvili and his closest people want. We have often mentioned that dialogue with Russia should start without preconditions. Geneva talks have also revealed that setting preconditions is completely useless and makes these talks dead before they are born." Mamradze also spoke about the visits by members of the opposition to Moscow, "In response to the Speaker's statement concerning the opposition leaders' meetings in Moscow – according to the results of international public polls 79-80 % of Georgia's population supports restoring relations with Russia. There are several reasons why the opposition was unable to win in the local government elections, but the connection with Russia is not really among them. The real reasons are: the street rallies and demonstrations held by radical opposition during the pre-election period, which irritated the public; the authorities' threats to the business sector not to finance the opposition; the monopolised media and in-fighting among the different opposition parties." Finally, he commented, "Our party's attempt with Russia has only positive outcomes for the country. We were the first to start negotiations on opening the Larsi Checkpoint and flights between Russia and Georgia; the West's reaction to those negotiations is positive. We have always stated that we can be only catalysts in the relations regulation process, the main work must be done by the authorities of the two countries."
According to the analyst Mamuka Areshidze, "Taking the present situation into consideration, leaving Abkhazia and so called South Ossetia is not in Russia's plans. This is especially true for Abkhazia, as Russian officials have dreamed of seizing this territory for many years. Russia wants to turn this area into a resort for its elite. Meanwhile South Ossetia is like a military cruiser for Russia, from where it can gain control of the Caucasus region."