Former Healthcare Minister elected Acting Rector of TSU
By Mzia Kupunia
Wednesday, September 1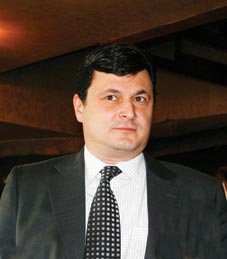 Former Georgian Healthcare Minister, Alexandre Kvitashvili was elected acting Rector of Tbilisi State University on Tuesday. The previous Rector, Gia Khubua left his post earlier in August, following the book theft scandal at the University library.
Alexandre Kvitashvili made a statement regarding his resignation from the Minister's post on Tuesday. He cited an "offer from academic circles" about being appointed as acting Rector of the TSU, as the reason for his resignation. "After thinking about it for a while, I agreed to the proposal. I decided to leave the Minister's post, so as not to create difficulties for the University Academic Council in making its decision," Kvitashvili noted. The former Health Minister said the offer was a "great honour" and a "huge responsibility" for him. "I am very close to University; it is where I spent the best years of my life. My family is also connected with the TSU - my grandfather was a dean of the History Faculty at the State University for years, and so, again, this position is a very big honour and a huge responsibility for me," he said at a special press conference.
Kvitashvili briefly outlined his work as a Healthcare Minister since January 2008. "I would like to thank everyone who assisted me when I worked as a Minister. Those two years and seven months, which I spent as Health Minister, were quite hard," he noted. "We went through many hardships together – several elections, and most importantly the August war in 2008. I want to thank the President, the government and the Prime Minister for their help and assistance. I am grateful to every employee of the Health Ministry. I think many good things were done during this period," he added. According to Kvitashvili, Irakli Giorgobiani, first Deputy Minister of Healthcare will be an acting Minister until a replacement is appointed.
Speaking about the achievements in the healthcare system during his term in office, Kvitashvili said, "A lot has been done in this sphere; however a lot remains to be done." "I think many good projects were carried out. If the situation was quite antagonistic in the medical sphere in February 2008, the situation has relatively changed now," the former Minister noted. "45 hospitals are being constructed throughout Georgia as part of the 100 Hospitals project. In light of the social security system, it was very important to introduce the medical insurance programme for people below the poverty line. Implementing a 'village doctor' project was also a progressive step," Kvitashvili told journalists, adding, "So to summarise, despite many problems and the obstacles caused by the world financial crisis, the healthcare system is now on the right track going in the right direction. Prime Minister Nika Gilauri has greatly contributed to this; he was actively involved in all the projects."
Some Georgian analysts characterise 40-year-old Kvitashvili as a "positive person" and a "good professional." "It will be quite hard to predict what kind of Rector he will be, however I know that he is a good person and a professional," analyst Mamuka Areshidze told
The Messenger
" I don't think that he will continue the course of the previous Rector. In my opinion, if Kvitashvili works out a new system and a strategy, it will be very positive for the University and for the country in general," he added.