IDPs demand USD10,000 per family
By Salome Modebadze
Wednesday, September 1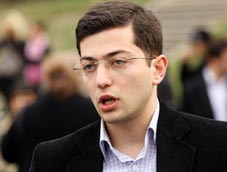 IDPs rallying in front of the Ministry of Internally Displaced Persons from the Occupied Territories, Accommodation and Refugees of Georgia on August 31 asked for USD 10,000 in compensation. Inga Grigolia, Chairperson of the Christian-Democratic faction of Tbilisi City Council said the issue of IDPs will always remain among the most burning issues for the party. "Fortunately we are represented in the Georgian Parliament thus we will do our best to provide the Govenrment of Georgia with the relevant information on the IDPs needs just after arranging our party meeting," Grigolia told
The Messenger
wondering how the Government can be so indifferent to people on hunger strike with their mouths sewed for so many days.
Meeting IDPs and listening to their problems, Inga Grigolia together with Zaza Gabunia promised the IDPs that they would use the Council tribune to deal with the IDPs' issues. Eka Gulua, spokesperson for the Ministry of Internally Displaced Persons from the Occupied Territories, Accommodation and Refugees attended the meeting and tried to answer the questions of the thirty IDPs demanding financial support for their families. Criticising the Ministry for neglecting their demands, the protesters refused to be sheltered in any settlement offered by the Ministry.
"The suggestions of the Ministry remain the same. We have been offering the IDPs appropriate living conditions for quite a long time. We are ready to use our transportation to take IDPs to the destinations. IDPs have been offered a number of accommodation options in various provincial districts of Samegrelo region [in Western Georgia], including Chkhorotsku, Khobi, Zugdidi, Tsalenjikha and Abasha in the western region of Samegrelo, as well as in Bakurtskikhe in Kakheti [eastern Georgia]. The apartments available in these locations have all the necessary living conditions such as electricity, gas, and water supply and the families will be given those refurbished apartments as their own property. What's more all the families will continue to receive financial assistance from the Government of Georgia," Gulua told The Messenger stressing that all the IDPs are being treated equally and there are no particular differences between those from Abkhazia [in 1990s] and those displaced from South Ossetia [in 2008].
Nevertheless the IDPs rallying in front of the Ministry didn't take those promises as serious and demanded USD 10,000 for each family as compensation. They said they need this money to buy apartments in different regions of Georgia and to ensure the safety of their families.
IDPs are against moving to rural areas and want to stay in Tbilisi or on the outskirts of the capital
because of the job opportunities. However the Ministry of Internally Displaced Persons from the Occupied Territories, Accommodation and Refugees claims that alternative accommodation for internally displaced persons evicted from the state-owned buildings in Tbilisi in recent weeks is only available in rural areas.