Education Minister meets Foreign Teachers
By Messenger Staff
Friday, September 3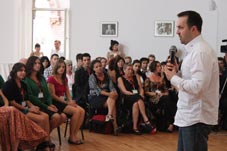 On September 2 The Minister of Education and Science of Georgia Dimitri Shashkin met English language teachers, who came to Georgia in the scope of the programme "Teach and Learn with Georgia" and discussed with them issues concerning the implementation of the programme.
As part of the programme "Teach and Learn with Georgia" the teachers from Great Britain, Ireland and Australia will work at public schools in Imereti region after passing the training. From the new academic year, they will teach English language to school children together with local teachers.
Dimitri Shashkin highlighted the importance of "Teach and Learn with Georgia". The Minister announced that with the help of the programme school children will improve their English by people-to-people communication.
The first group of foreign teachers who arrived in Georgia on July 30 will teach the English language in public schools in Adjara; the second group arrived on August 14 and they will work in Samegrelo and Zemo Svaneti.
In total 1,000 native English speakers will come to teach in Georgian schools.