First Georgian Killed in Afghanistan
By Gvantsa Gabekhadze
Tuesday, September 7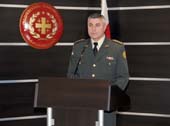 A Georgian soldier, 28-year old Mukhran Shukvani was killed and another, 25-year old Aleksandre Gitolendia was badly injured and lost both legs during the explosion of improvised bomb in Afghanistan - Georgian Defense Ministry stated on September 5.
Georgia sent its 31st infantry battalion to Afghanistan in April, 2010 to serve alongside U.S. marines in Helmand province. With this deployment Georgia increased its military presence in Afghanistan to 950 soldiers. Georgia first deployed a company-sized unit in Afghanistan under the French command in November, 2009.
According to a statement from the President's press Service, the President of Georgia, Mikheil Saakashvili expressed his sorrow at the act and offered his deepest condolences to the family of the killed soldier, to his co-fighters and the Georgian people.
"We've lost one of the best servicemen of the Georgian Armed Forces and it is very hard and painful for us. Gitolendia's condition is also very difficult and serious," Deputy Chief of Joint Staff of the Georgian Armed Forces, Col. Arsen Tsukhishvili stated.
The Georgian Foreign Ministry also gave an official statement. Deputy Foreign Minister, Nino Kalandadze said, "The Ministry expresses its deepest sympathies to the family of the killed pofficer. This mission carries huge responsibility as well as serious threats. We hope that this will be the last accident that Georgian soldiers are involved in and that Georgia will have no more killed soldiers during the mission."
The U.S. Embassy in Georgia has published a letter of condolence. "The entire U.S. Embassy community extends our deepest sympathies to the family of First Lieutenant Mukhran Shukvani and to the people of Georgia for the loss they have suffered in Afghanistan.
First Lieutenant Shukvani served bravely in leading his men and helping the Afghan people build a future free of fear and oppression. We mourn his loss, even as we salute the ongoing dedication and sacrifice of his fellow members of the 31st Battalion," the letter said and also underlined the importance of Georgians participation in the mission. "The Georgian Armed Forces and the people of Georgia are making vital contributions to realising our shared objectives under NATO`s International Security Assistance Force in Afghanistan. The United States deeply appreciates and respects Georgia`s contributions, and the sacrifices that come with them. We will honor First Lt. Shukvani`s memory in continuing our work to build a peaceful, stable Afghanistan," reads the Embassy's statement.
Parliamentary minority, the Christian Democratic Movement also offered Shukvani's family its condolences, saying, "We offer out condolences to the family of the killed Georgian soldier and hope that everything will be done to ensure the wounded soldier's survival."
According to the latest statements by the President of Georgia, Mikhail Saakashvili, there is a plan to increase the number of Georgian soldiers in Afghanistan, which some Georgian military analysts oppose. Military analyst and Editor-in-Chief of the military magazine Arsenal, Irakli Aladashvili has told
The Messenger
, "I am categorically against more Georgian soldiers going to Afghanistan. The fact that Georgian soldiers should not be sent to Afghanistan, so far away from their own country, was proven during the August war, when the soldiers in Iraq were not able to protect their own country and their return was only arranged after the war was over. I welcome the experience the Georgian soldiers are getting while there, however this experience is only in becoming familiar with modern weaponry and not practical experience, which is more important for us."