Moscow accuses Tbilisi of training militants
By Mzia Kupunia
Tuesday, September 7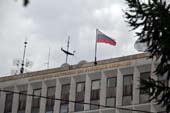 A Russian Interior Ministry official has accused Georgia of "training militants" on Georgian territory. Deputy Head of the Russian Interior Ministry North Caucasus region department, Nokolay Simakov told the Russian newspaper
Vremya Novostei
on Monday, that the Ministry possesses information about the existence of "special camps for training 'boeviks'" on Georgian territory. "They gather the people from the Caucasus republics, usually criminals or those hiding from European law enforcers. They [the militants] are being trained there [in the camps] and sent to us via neighbouring countries," Simakov stated.
The Russian official cited a recent clash at the Russia-Azerbaijan border as proof that his allegations are genuine. "A clash took place on the Russia-Azerbaijan border when a group tried to cross into Russia from Azerbaijan. One border guard died and one militant was killed during the clash and two others were detained," Simakov said. "During questioning it came to light that they were recruited by extremist organisations and sent to Georgia for training to later operate on Russian territory," he added.
Russian officials have also made similar statements previously. In December 2010 the Russian Federal Security Service accused Georgia of training terrorist groups to "attack strategic facilities in Dagestan." "The Dagestan Department of Federal Security Service possesses information that these attacks are due to be carried out before the New Year on the Dagestan energy and railway systems,"
Interfax
news agency quoted the Russian Federal Security press service as saying.
Both then and now the Georgian authorities denied the allegations of the Russian Interior Ministry and the Special Services, calling the accusations "groundless" and "senseless". The Tbilisi authorities suggest that Russia's claims are merely aimed at distorting Georgia's international image. Georgian Reintegration Minister, Temur Iakobashvili advised Russian officials to "mind their own business." "The Russian administration would do better to care about its own country and not point the finger at Georgia after every blast. However, it seems that they don't have the power to keep things under control on their own territory," Iakobashvili said on Monday.
Commenting on the statement of the Russian Interior Ministry official, Georgian analyst, Mamuka Areshidze suggested that Russia might be getting ready to carry out a special operation aimed at "liquidating the militants" in Pankisi Gorge. "I don't think that there is any danger of a special operation in Pankisi Gorge at this stage, but there is a serious threat that Russia might be getting ready for this. However, it is worth noting that when talking about military camps in Georgia, Russian officials never indicate a specific location," Areshidze pointed out and added, "This means that the statements are PR actions, directed against our country."
Another Georgian analyst, Nika Chitadze said that the accusations of Moscow about the alleged "terrorist camps" in Georgia are part of the information war between the two countries. "Russia is the country who in fact cooperates with the terrorists. Hamas was the first organisation to recognize Abkhazia and South Ossetia as independent states," Chitadze told
The Messenger
. "Russia now is trying to spoil Georgia's reputation in the international arena. As for the possible provocations from Moscow, I think this is quite unlikely," he added.