Diplomats' Tasks set out at 'Ambassadorial'
By Gvantsa Gabekhadze
Wednesday, September 8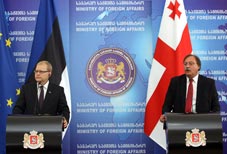 The 'Ambassadorial' Conference organised by the Ministry of Foreign Affairs of Georgia began in the Radisson Blue Iveria Hotel, on September 7. This annual event summons Georgian ambassadors posted all over the world to assemble to meet with each other and to listen to the reports on state strategy and foreign policy. Apart from Georgian ambassadors and officials, this year the meeting was attended by some special guests – OSCE Secretary General Marc Perrin de Brichambaut, Finish Foreign Minister, Alexander Stubb and the Estonian Foreign Minister, Urmas Paet.
Foreign Minister of Georgia, Grigol Vashadze underlined the most important tasks for the diplomats for the coming year. "The ambassador's conference is a special event, because it gathers together the representatives of Georgia's diplomatic missions to meet with the Georgian authorities to listen to the key goals, tasks and priorities for their work for the following year. One such task is the attraction of investments, another – the support of democratic development in the country. This year I have invited the foreign ministers of Estonia and Finland to attend the event. The guests will share their experience of diplomatic work with our diplomats, in NATO and EU in particular," Vashadze said.
According to the Minister of Reintegration, Temur Iakobashvili, Georgian diplomats are an important information tool with the foreign community. "Our activities in the international arena are very significant for the country, particularly concerning the attraction of investments as well as the non recognition policy. Our diplomats will be constructive in this," Iakobashvili said.
Georgia's ambassador to the United States, Batu Kutelia mentioned, "The United States remains one of the most important allies for Georgia. In the current year, our main efforts will be directed towards carrying out the strategic partnership charter. In addition there should be a greater number of people involved in Georgian-American relations; in particular business sector representatives should be more involved."
Georgia's Ambassador to NATO, Grigol Mgaloblishvili commented that the autumn will be an extremely busy time for NATO-Georgian relations. He stated, "The main priorities of the country, participation in the Euro-Atlantic space, non recognition policy and regional collaboration, remain unchanged for Georgia. Autumn in NATO-Georgian relations will be very busy as serious bilateral meetings will be held prior to the Lisbon summit," Mgaloblishvili stated.
Georgia's ambassador to Poland, Kote Kavtaradze reported that the Georgia-Poland relationship will not change significantly. "Despite the fact that the political leadership has changed completely, no significant change in Georgian-Polish relations is expected. The Government's foreign policy supports Georgia. Also, Georgia is widely supported by the Polish people," Kavtaradze stated.
Analyst Irakli Sesiashvili told
The Messenger
, "It is nothing new that the authorities are mainly oriented on attracting foreign investments; they have their reasons. Georgia received significant finance assistance from foreign countries following the Rose Revolution. In 2012-1013 Georgia will have to repay debts. Currently however Georgia does not have the means to do so. The present authority cannot beg the lenders to cut the loans, as this would reflect badly on the present government's image and authorities cannot let this happen, as it may also negatively impact their power. I do not anticipate even a slight growth in investment in the country because it is not at all important that a business can be registered in a day in Georgia; most important is how the product will be sold. Secondly, launching a business in the country is directly dependent on the authorities. If the businessman is not related to the authorities he cannot achieve success. On the other hand, those businessmen who have Government contacts have to pay too much during the elections, so they don't have profitable circumstances either." Sesiashvili added, "As for Georgia's foreign relations – I was in Brussels a few days ago and saw that NATO is really interested in relations with Georgia. Let's start with how Georgia fulfils its obligations. It is obvious to everyone in the country and not only those in the country, that the obligations are being fulfilled only on paper. The situation in Georgia remains far from European and NATO standards. Had the money that was spent on Police buildings, modernising the army, on the Presidential Palace and so on, been put into agricultural development, Georgia would have its own wheat supply in the country. The fact that in reality those obligations have not been fulfilled is used by those countries in NATO who are against Georgia entry. However, even if those obligations are fulfilled, even if mainly on paper, it would be a political decision. NATO's members will think how this decision might reflect on them. I do not expect Georgia to become a NATO member in the short term. I expect that NATO will find some alternative outcome that will be acceptable for Georgia, as well as for its member states."