Minister Awards Winners of International Olympiad
By Messenger Staff
Wednesday, September 8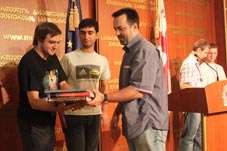 The Minister of Education and Science of Georgia, Dimitri Shashkin met the winners of International Olympiads, Tsotne Tabidze, Grigol Peradze, Teimuraz Ghoghoberidze and Levan Kankadze and awarded them with prizes, diplomas of Honour and books. The Minister offered them the chance to practice at the MES.
Tsotne Tabidze, a student of Kutaisi Razmadze Public School ¹41 received the golden medal in the International Information Technology Olympiad that was held in Canada. The Minister awarded him with a diploma of Honour and prize worth 5,000 GEL.
11th grader of Tbilisi Komarov School ¹199, Grigol Peradze won the bronze medal in the Physics International Olympiad held in Croatia. He was also presented with a diploma of Honour and 2,000 GEL.
12th grader of Tbilisi Public School ¹42, Teimuraz Ghoghoberidze and 11th grader of Tbilisi Komarov School ¹199, Levan Kankadze received diplomas of Honour at the same Olympiad. The Minister presented them with books and diplomas of Honour.
It should be noted that all four participants are pupils of Physics-Mathematical schools. These schools had their status returned by the initiative of the President. MES will further encourage the successful school children.