President vows to care for Kazbegi at holy summit
By Salome Modebadze
Monday, September 13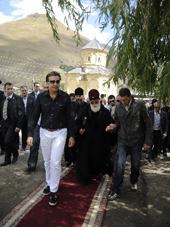 The President of Georgia, Mikheil Saakashvili, visited the native village of Catholic-Patriarch of All Georgia, Ilia the Second, in the Kazbegi region on September 10. Meeting the local Sno dwellers with his Holiness and Beatitude at the theological cultural centre named after Shiola Gudushauri, Saakashvili thanked the Patriarch and received his blessings. "I think you should pay special attention to our region bordering Russia. There are wonderful conditions for sheep, cattle and horse breeding so that jobs should be created here. I'm very glad that you are in the region where our great ancestor Shiola Gudushauri lived. God bless you and the whole of Georgia," Ilia the Second address the President.
"You are strengthening this region by encouraging the local people with your visits which are so important for them. The danger of emptying Stepantsminda [the regional centre of Kazbegi] has been high so far…People do definitely want everything to be done fast because they all realize well that the region shouldn't be left," the President told the Patriarch while praying at the Vakhtang Gorgasali Church and the newly erected monument in the yard. Saakashvili promised that he would look after Kazbegi region and said "there is still much to be done" in the region.
"A lot of tourists have arrived in the region [this year] which means that we should invite teachers, who could prepare locals in tourism. But first there should be roads, material opportunities for building hotels and jobs for local people aimed at developing agriculture before inviting the tourists in the region," Saakashvili said stressing there have been 2 and a half times more tourists in Kazbegi region this year than ever before. "No places should be left without attention; they say the President cares just for Signagi, Batumi, Kutaisi, Anaklia, Mestia and Tbilisi but all these cities create the whole of Georgia. I have promised the Kazbegi people that I would care for the region just like the other parts of Georgia - we have learned so many things and will do everything better in future," he said stressing that the opening of Upper Larsi border has awoken Stepantsminda.
Analyst Nika Chitadze called the President's and Patriarch's visit to Kazbegi an important event. "His Holiness and Beatitude is from the wonderful village Sno in Kazbegi, a region of great political importance for the country. Bordering the Russian Federation, the region needs serious investments. The Upper Larsi border used to enable the Kazbegi people to move to Russia without visas before closing it in 2006.Thus developing tourism and agriculture in the region will ensure integration of the local population back to Georgian society. Besides that, the Truso Gorge bordering the occupied Akhalgori enables the Government of Georgia to spread their influence over the territories," the analyst told us.