President visited Sairme resort
By Messenger Staff
Tuesday, September 14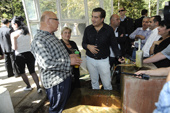 On September 12, President of Georgia Mikheil Saakashvili visited one of the most beautiful resorts of Georgia, Sairme located in western Georgia, 950 m. above sea level and 290 km. from Tbilisi. Its basic merits include unspoiled nature, mild mineral waters that have rare chemical composition and qualities, active in summer season Sairme is known for its healing springs, which have been used for over a hundred years for kidney and bladder problems.
"In the next year, tourists will find Sairme a completely changed place", Saakashvili promised resort visitors and locals.
The President received some recommendations from them and asked for their opinions on bringing children there. The president said, reconstruction of sanatoriums should be carried out gradually, infrastructure should be improved and the drinking water network that currently does not exist in Sairme, should be made.
Saakashvili also visited the booths, where visitors get mineral water and stressed the necessity of changing them with new modern constructions.
The president gave concrete recommendations to the minister for regional development and infrastructure and the head of the tourism and resorts department of the economy ministry. It was settled that streetlights will soon be installed in Sairme and homes of locals will be refurbished.
As reported, construction of the 26-kilometre Bagdati-Sairme motor highway has already been finished in the region. GEL 5,5 million was allocated on the project.
Before leaving Sairme, Saakashvili took some photos with the locals and the resort visitors.