Georgia does not support Russia's WTO bid, MFA says
By Mzia Kupunia
Tuesday, September 14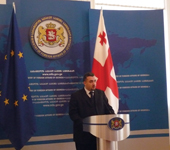 Georgia has not changed its position on Russia's bid to join the World Trade Organisation, a Georgian Foreign Ministry official said on Monday. "We will not support Russia's WTO aspirations," The Director of the International Relations Department at the Georgian Ministry of Foreign Affairs, Sergi Kapanadze, said at a routine Monday briefing. His comment followed the statement of the Deputy Secretary of State for Political Affairs, William Burns, that Russia is "as close to joining the WTO as never".
Speaking to the Russian journalists, Burns said that at the summit in Washington on June 24 Russia, the US had decided to finalize working on the unresolved issues about Russia's WTO membership until September 30. "Russia is making progress in this respect," Burns told Interfax news agency, adding that "USA is giving all needed support to Russia."
"The position of the Georgian government about Russia joining the World Trade Organisation remains the same and we are not going to change it," Kapanadze said "We are still against it, because Moscow is not fulfilling its commitments," he added.
As a member of WTO since June 2000, Georgia has the right to veto the entrance of any new member in the organization. Meanwhile, Russia has been trying to join the organization since 1993, with the Russian President Dmitry Medvedev recently saying that Moscow is "tired of sitting in the waiting room of the WTO."
Georgia will not veto Russia's entry to the WTO only in the event that Moscow "respects Georgia's state interests and the norms of the international law," ruling Party MP, Chairman of the Parliamentary Committee on European Integration David Darchiashvili told The Messenger. "In terms of strategy, this is the de-occupation of Georgian territories. However, tactically, this could be broken into several stages – letting international observers into the occupied regions, letting the IDPs to return to their homes and eventually withdrawing Russian troops from Abkhazia and Tskhinvali region. Some dynamic should be seen in this respect," Darchiashvili added.
Georgian analysts suggest that if Georgia agrees not to veto Russia joining the WTO, it should "get a benefit by taking such a step." "This could be opening Russian markets for Georgian products," analyst in economic issues, Levan Kalandadze, said in an interview with the GHN news agency. "It is Georgia's prerogative whether it supports Russia's bid on entering the WTO or not and nobody can influence this right. It is a purely business approach and I am sure that if the Georgian government will take such a step, then Georgia should get some advantages out of it. Otherwise I am sure that the Georgian delegation will not support Russia's entry into the organisation," he said.