Tbilisi slams Moscow for its "aggressive rhetoric"
By Mzia Kupunia
Tuesday, September 21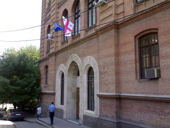 Moscow is continuing its "aggressive rhetoric" against Georgia, Georgian Deputy Foreign Minister, Nino Kalandadze said on Monday. Her comment followed the statements of the Russian Defence Minister Anatoly Serdyukov, that the Russian military bases deployed in Abkhazia and Tskhinvali region can eliminate "any possible aggression" from the Georgian side.
Speaking in Washington last week, the Russian Defence Minister said that Moscow is not planning to increase the number of Russian troops deployed in Georgia's breakaway regions. "There is no need for this. To eliminate possible aggression from Georgia, like the one carried out in 2008 against South Ossetia, we will need not five days, but much less," Serdyukov stated. "We are constantly holding analysis of possible development of events in this region. The troops deployed in those two military bases are enough to react upon any development in the situation,"
Interfax
news agency quoted the Russian Minister as saying.
Serdyukov expressed Moscow's concerns about foreign states "providing Georgia with arms". "We touch upon this issue at the meetings with our Western partners," the Minister said " We are telling them that we are concerned with this fact and that it hinders our cooperation with, let's say, Israel, US and all others, who are providing arms to the current Georgian regime," he added, according to Interfax.
The statements of the Russian Defence Minister are "absurd" and "groundless", Georgian Deputy Foreign Minister said at the routine Monday briefing. "When the Russian officials are talking about Georgian aggression, obviously everyone is aware that the statements are absurd and lack any grounds. Georgia has never planned and is not going to carry out aggression against anyone," Kalandadze stated, adding that Moscow's "aggressive rhetoric" threatens Georgia and its sovereignty.
Some analysts in Georgia suggest that, with this statement, Moscow is simply "flexing its muscles", however experts stress, that it also contains some threat to Georgia. "The threat is that Georgia remains an object of military aggression for Russia," independent analyst, Mamuka Areshidze told
The Messenger
"It does not mean that military actions might start in the near future, however the threat is there. Such high level officials do not usually make statements without purpose," he added.
The Georgian Deputy Minister suggested that in this situation the she does not see any prospect of a breakthrough in Georgian-Russian relations. "We often hear questions about Georgia's attempt to restore diplomatic relations with Russia. However, with the background of such aggressive statements, even theoretical chances of progress in this respect are excluded,"
RIA Novosti
quoted her as saying.
Kalandadze called on the international community to show an "adequate" reaction on Russian Defence Minister's statements. "The international community is alert and we are systematically informing them," the Deputy Minister said.
Kalandadze commented on the statement of the French Foreign Minister, Herve Morin, that selling a Mistral amphibious assault warship to Russia is not a threat to Georgia. "Russia is no longer the Soviet Union," the French Minister said, adding that selling Mistral to Russia will not substantially change the balance of power between Russia and Georgia. However, Kalandadze suggested that "Mistral can endanger not only Georgia, but the whole region." "Russia is no more the Soviet Union, however Moscow wants to restore it," the Georgian Deputy Minister stated "In the hands of Russia's current uncontrolled government with imperialistic plans, Mistral is a real threat," she added.
Analyst Mamuka Areshidze refrained from assessing the alleged threats of selling Mistral to Russia, saying that it is still not clear where exactly Russia is going to deploy it. "If it is deployed in the Black Sea, of course it will change the balance of power in the region as Russia will become dominant on the Black sea. However I don't think that the balance of power between Russia and Georgia will change, as the Russian fleet in Sevastopol is already a big threat for Georgia in case of military actions," Areshidze said.