Russia-NATO relations on the agenda in New York
By Gvantsa Gabekhadze
Friday, September 24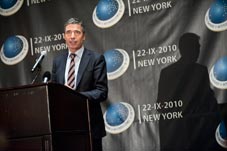 Despite "fundamental disagreements" on some issues, some of which involve Georgia, Russia and NATO will hopefully step up cooperation- NATO Secretary General Anders Fogh Rasmussen said on September 22, speaking at a news conference in New York after a meeting of foreign ministers of NATO-Russia Council.
"We are on a solid path to improve NATO-Russia relations. We discussed conventional arms control and in this respect also the situation in Abkhazia, South Ossetia, Transnistria...( breakaway region of Moldova) . There is no reason to deny that these issues are issues where we do not see eye to eye; but I do hope, despite the fact that we have disagreements in that respect, we will move forward and see progress regarding arms control," Rasmussen stated. Herewith, he has invited Russia to hold talks with the NATO states at the alliance's November summit in Lisbon.
As it has been mentioned, one of the main issues of the NATO-Russia Council was the Conventional Forces in Europe Treaty (CFE). Russia suspended its participation in the CFE in 2007. NATO believes CFE should prevent Russia from stationing troops in the breakaway regions of Georgia and Moldova.
It is important for both sides to restore and eventually modernize the Conventional Forces in Europe (CFE) Treaty- US Secretary of State, Hillary Clinton stated while commenting on NATO-Russia ministerial, (Reuters reported) "I am encouraged that Russia had welcomed NATO's offer to begin discussing a framework for reviving the CFE. We must ensure that the initial framework commits us to addressing all the tough issues if we want the follow-on negotiations to be successful," Clinton stated and mentioned that NATO leaders should work out a plan to be endorsed at a summit in November which will pave the way for new cooperation, echoing a call earlier this month by NATO Secretary General Rasmussen, "In the longer term, NATO and Russia should work together to develop models for a combined NATO-Russia missile defense architecture," the State Secretary said.
Apart from the NATO statements, the European Union has once again expressed its support towards Georgia, "The European Union will continue its non recognition policy towards Georgian occupied regions. It is important that our position be firm in this direction. It is clear that there are serious obstacles in Russian-Georgian relations and it is also very important not to forget those obstacles. It is significant for both sides that actual issues are pushed forward," EU special representative for the South Caucasus, Peter Semneby stated on September 23.
As Military analyst and the editor of military- analytical magazine Arsenali, Irakli Aladashvili told the Messenger, "This agreement was adopted in 1990. In 2007, Russia declared moratorium towards the agreement, which enabled Russia to dispose its military forces in North Caucasus, which is called the South flank by Russians. After this, Russia carried out aggression towards Georgia. The most important thing is that Russia does not pay much attention to what European countries or NATO intend or think. After 2008 events in Georgia, Russia understood that it can act in its own interests, as those organizations' or western countries' responses would be belated, "Aladashvili stated.