UNDP and EU officials visit factory in Gori
Friday, September 24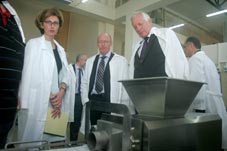 Representatives of the Georgian government, European Union and the United Nations Development Programme (UNDP) visited a milk-processing plant in Gori on September 23. Head of the European Union Delegation to Georgia Ambassador Per Eklund, Head of UNDP in Georgia Jamie McGoldrick, Deputy Minister of Education and Science of Georgia Irina Kurdadze, Deputy Minister of Agriculture Malkhaz Akishbaia, and Shida Kartli Governor Zurab Arsoshvili met the mini plant personnel and the Gori University students.
First opened 4 month ago, the milk-processing plant produces a variety of quality dairy products while at the same time serving as a site for practical training for the vocational education students of the Gori University.
The plant is equipped with up-to-date technology to comply with international food safety standards. It can process up to 1,000 litres of milk a day ensuring quality control at all production stages.
Speaking in Gori, Deputy Minister Irina Kurdadze said: "Establishing small production at the vocational education centres is a successful model that can be replicated by the other professional colleges."
The plant in Gori was established as part of the joint EU/UNDP initiative "Early Recovery Efforts in Georgia."
"Provision of tangible results and specific solutions has been at the core of this project from its beginning. We are pleased that it has become possible to create new jobs and offer many people access to practical training. We consider this an important area of the European Union assistance to Georgia in post-war recovery," Ambassador Per Eklund said.
Head of UNDP Jamie McGoldrick noted the progress achieved in vocational education thanks to the joint EU/UNDP programme.
"The University of Gori is now offering educational courses in 12 and retraining in 16 professions. All courses are tailored to the needs of the local labour market. It is the only educational institution in Georgia that provides theoretical as well as practical training in milk processing industry," he said.
The joint EU/UNDP initiative is the response to the August 2008 war, which severely affected livelihoods in or close to the conflict areas. With Euro 4.4 million in EU funding, it is designed to provide more income generation opportunities and to encourage economic recovery and development in the regions of Shida Kartli, Samegrelo and Mtskheta-Mtianeti.