NATO Secretary General set for Georgia visit
By Gvantsa Gabekhadze
Tuesday, September 28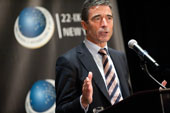 NATO Secretary General, Anders Fog Rasmussen is to visit Georgia, on September 30; A statement concerning the issue was made by Deputy Foreign Minister, Nino Kalandadze, on September 27.
"Very significant issues regarding NATO-Georgian relations are to be discussed during the General Secretary's visit to Georgia. In the schedule, meetings will be held with the President of Georgia, Parliament Speaker, Prime Minister and the Foreign Minister of the country, "Kalandadze said.
Rasmussen is to visit Georgia after a NATO-Russian Council meeting in New York, which enhanced interest towards the issue. At the council meetings, one of the main themes was the Georgian breakaway regions. It was mentioned that Russia might become more involved in the Conventional Forces in Europe Treaty (CFE) which prevents military bases' deployment on a country's territory without that country's government's permission. There also was speculation surrounding Russia's participation in NATO, however this was denied by Chief of the General Staff of the Armed Forces of the Russian Federation, First Deputy Minister of Defence, Nikolai Makarov's in yesterday's statement concerning NATO, "Neither Russia nor the people of Russia or the armed forces are ready for integration into the alliance. NATO and Russia have different viewpoints on some problems of international significance." Makarov said.
Unlike Russia, Georgia is still moving towards NATO, however NATO is not the only international aim for Georgia, "Of course we did not change our mind in respect of our NATO aspirations. But on the other hand, we are developing relations with all of the other countries in the region. We are developing relations with the countries to the south, with other former Soviet countries - countries like Ukraine; in Central Asia, Caspian region; Turkey and the European Union; we have started Association Agreement talks with the European Union. We signed a strategic relations treaty with the United States. So we are not fixated only on one goal, there are many goals. Of course we never gave up our aspirations - we want to be members of a serious club, we want to have a secure future," President of Georgia, Mikheil Saakashvili stated in his interview with Al Jazeera's English-language channel.
The fact is that Russia does not pay significant attention to what NATO or any other international organization says, Military Analyst, Irakli Aladashvili told the Messenger, "Foreign organizations' activities and statements, including those regarding Georgia, are not significant for Russia. There is one reason for this. Russia knows that it can do as it pleases and carry out aggression as the international response on the issues would be slow, "Aladashvili stated.
According to analyst Irakli Sesiashvili, 'NATO is really interested in the Georgian issue and the organization actively works in this direction. What I can say at the present moment is that, in my opinion, NATO is searching for alternative ways, which would protect Georgian interests and at the same time will be profitable and safe for NATO member countries. Those countries should adopt decisions concerning Georgia without harming their countries' interests at the same time, "Sesiashvili told
The Messenger
.