Saakashvili's press speaker on Rasmussen's upcoming visit to Georgia
By Mzia Kupunia
Wednesday, September 29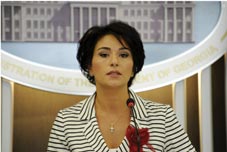 NATO will continue its cooperation with Georgia and support its integration in the Alliance, Georgian President Mikheil Saakashvili's press speaker, Manana Manjgaladze said at a weekly press briefing on Tuesday. Commenting on the upcoming visit of NATO Secretary General Anders Fogh Rasmussen to Georgia on September 30 - October 1, Manjgaladze noted that Rasmussen will hold a number of official meetings with high-rank Georgian officials, including the Georgian President Mikheil Saakashvili, the Prime Minister Nika Gilauri, Parliament Speaker Davit Bakradze and the Foreign Minister Grigol Vashadze.
The subject of discussions at the meetings will be NATO-Georgia relations, according to Saakashvili's press speaker. "It is important as far as NATO continues cooperation with Georgia and supports its integration in the Alliance," she noted "the political background in terms of NATO and, generally, the international community's attitude towards Moscow should also be taken into account. The NATO Secretary General has already stated repeatedly that resetting relations with Russia will not happen at the expense of Georgia's interests," Manjgaladze added.
President's press speaker summed up the President's visit to the US, saying that , in regards to the UN General Assembly Summit in New York, Saakashvili met the US Secretary of State Hilary Clinton, the leaders of Finland, Lithuania, Croatia, Kyrgyzstan, Honduras, as well as EU commissioners and businessmen. "Especially important was the President's meeting with the Millennium Challenge Corporation head Daniel Yohannes, where the sides talked about the projects already implemented in Georgia, as well as the future plans, and the meeting with the US businessman Donald Trump. Georgia will be the first country in Eastern Europe where Trump will make investments," she told journalists.
Manjgaladze commented on Russian President Dmitry Medvedev's decision to fire Moscow Mayor, Yuri Luzhkov. The Georgian side thinks that the decision indicates a fight between two oligarch clans, she noted, suggesting that the process might deteriorate with the 2012 Presidential Elections approaching in Russia. "The decision [to fire Moscow Mayor] will not have any influence on Georgia, as nothing changes for us with this fact," Manjgaladze said.
According to the Kremlin press service, Russian President Medvedev on Tuesday signed an order to fire the 74-year-old Mayor of Moscow, Yuri Luzhkov after 18 years in office. Medvedev "lost confidence" in Luzhkov, Russian President's press speaker Natalya Timakova told journalists on September 28.