New opposition party to be chaired by outcast Okruashvili
By Gvantsa Gabekhadze
Friday, October 1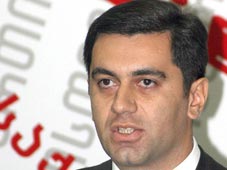 A new opposition political party is being created. The chair of the new opposition coalition is to be a former Defence Minister, Irakli Okruashvili. The issue has already created controversy among the opposition directions.
Okruashvili, who was given political shelter by the French, still remains actively involved in Georgian political life in opposition direction. However, his activeness is limited to interference from abroad as he has not visited Georgia for several years. A statement concerning the new party has also been made by him in a phone call to Georgian media, "I intend to create a new opposition political party and the consultations regarding the issue are ongoing. As for concrete details, everything will be done in good time. Consultations can not last endlessly," Okruashvili stated, herewith he has not denied that the co-leaders of the party might be the leader of Defense Georgia, Levan Gachechiladze and the former Ombudsman, Sozar Subari, while he refused to rule out other political figures.
Collaboration with the Okruashvili-Gachechiladze future political party will be acceptable for the Conservative Party, "We are collaborating with all genuine opposition movements. I welcome the new party's formation. As for concrete forms of collaboration, they will be revealed after the party's creation," the party leader, Zviad Dzidziguri stated. This attitude has been shared by Koba Davitashvili, head of the People's party and by the Movement for Fair Georgia, "If the party is created, we will collaborate with them, "Davitashvili said.
Democratic Movement- United Georgia, chaired by the former Parliament Speaker, Nino Burjanadze will be among those, which have different plans and intentions for the future, "if I have expressed my desire for participation in that political party some leading position would have been found for me. However I can see my place only in the frame of the Representative Public Assembly, " Burjanadze stated.
New Rights also have a different attitude regarding the case, "Okruashvili has a right to create a party, and it is his decision. We have our concrete way and plans. As for collaboration with them, we will observe the situation first of all and then decide," Mamuka Katsitadze, from the Party, stated.
The Georgian authorities consider that making predictions about the opposition issue would be difficult even for the analysts, "If any opposition party manages to oppose the authority, it will be revealed in the Parliamentary elections of 2012. As for opposition activities, they push things to the limit so much that making comments on their behaviour is too difficult even for the analysts. What I can say is that there are some forces in the country, which are dangerous for Georgian interests, "majority MP, Vakhtang Balavadze, stated.
For the unification to be successful, those politicians have to make different steps to regain the public trust, analyst Gia Khukhashvili told the Messenger, "It would be difficult for them to regain the public trust. In general, unification must not be created based on a negative principle, meaning unification against somebody. When unity is created and the main reason of those people unifying is somebody's destruction, it is already negative and is a step in the wrong direction. If Noghaideli (Zurab Noghaideli, former Prime Minister) gathers the party, I can say surely that this party will not achieve any success as Noghaideli shares responsibility for what is going on in the country now, "Khukhashvili stated.
Analyst Soso Tsintsade's forecast is pessimistic concerning the issue, "It will be very difficult for them to create a successful party, as it will need a lot of material and some other resources which these politicians do not have at the present moment. Herewith, Okruashvili can not be in the country and regaining the trust of voters from a distance is also very difficult, "Tsintsadze said.