German Ambassador on German-Georgian relations
Monday, October 4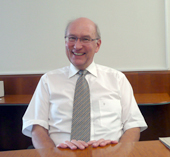 Editor-in-Chief of the Messenger Zaza Gachechiladze interviewed the German ambassador to Georgia HE Ortwin Hennig.
First of all we celebrate the date which is important not only for Germany but for the entire world, as it ignited a new development of history and it was a time of big changes. My first question is; how do you evaluate current relations between Germany and Georgia in different fields and in different prospects?
I highly value our states' relations. We have always stated that Germany fully supports the sovereignty and territorial integrity of Georgia and that we fully support Georgia's European way. Our relations are based on ties that go back well into the times of Georgian kings; they are strong and mutually beneficial in different fields - cultural, scientific, literary, and others; Georgia and Germany have much in common, both of us are young states, independent Georgia and the reunified Germany are just 20 years old. There is a lot of potential for German investors in Georgia. A high ranking German economic delegation has visited Georgia this week and together with the German Business Association (www.dwvg.ge) my colleagues from the Embassy and I did our best to attract them to invest in this country.
Do you have any priorities where to focus your activities? You have mentioned cultural direction and some others, however, maybe you have some other priorities as well, maybe your ministry gives you a direction towards some fields?
My country has been involved in post conflict management issues. As you know, the German government built houses in Gori for internally displaced persons from South-Ossetia. We collaborate with the Ministry of Reintegration and I think that the action plan of the Ministry is a good step forward. Another important priority, as I have mentioned, is the economic cooperation. I will personally try to attract potential German investors. The environment for foreign investors is good; the new tax code also seems to be attractive to investors. However, Georgia is competing with many other countries, therefore the country should continue its democratic reforms. Investors are also interested in the external stability of the region. A modus operandi with Russia would be helpful also in this respect.
There is one very significant issue, concerning Georgia's claims to join NATO, as far as I remember Germany took a very specific stand during the Bucharest Summit in 2008. Many in Georgia think that NATO's slow moves encouraged Russia to launch military aggression against Georgia. How would you assess the situation?
I will draw different conclusions if I may. It is true that Germany together with other partners was not in support of Georgia getting the Membership Action Plan (MAP) at the time. However, the German Chancellor Angela Merkel and all the other Heads of State of all NATO member states committed to Georgia becoming a member of NATO in the Political Declaration issued at the end of the Bucharest Summit. That declaration, in my view, might have been interpreted in Moscow as politically more important than the granting of MAP to Georgia would have been. Moscow might have considered NATO thus having crossed a red line.
What is your present point of view on the current Georgian situation, economical, cultural, social and some other fields?
My government is committed to Georgia's territorial integrity and independence. Georgia has taken a hopeful route. As for the internal situation, the May elections are a step towards a better political culture in the country because I noticed that the losers of the elections have congratulated the winner, which is a step in the right direction. I hope that the May elections are a step towards institutionalising the political process in this country. According to the assessment of different international observers, the elections have been held quite well. I hope that the government will now pursue democratic reforms and good governance . The opposition will hopefully take its responsibility and pursue a constructive opposition.
Economically, I know that the official macro-economic figures are quite optimistic. I understand that this country is in need of Foreign Direct Investment. Georgia has to prove that it is a worthy country for foreign investors to spend money on. In this respect, the continuation of democratic reforms internally and the stabilisation of the regional situation externally are important factors.
Foreign policy-wise, Germany does everything in its power to help stabilise Georgia's development as an independent state. Personally, I am convinced that the key to solving the territorial problems does not lie in Washington or in NATO headquarters in Brussels; it lies in Moscow. That's why I am convinced that a modus operandi with Russia is in the mid-to long term interest of Georgia. You cannot solve your territorial problems against Russia.
There is one viewpoint here however that the Russian leadership refuses to communicate with the current leadership of Georgia. The situation is awkward, because the opposition claims that everything is being done in the ruling party to help Saakashvili become Prime Minister, and the future President of Russia will be Medvedev or Putin, so there is an obstacle, if Saakashvili is PM in Georgia and Medvedev or Putin a President in Russia, this is an obstacle. Generally, the situation is like that
I deplore the personalisation of bilateral relations. This is something that neither side should do. I cannot comment on the future political plans of President Saakashvili, this is up to him, to Georgia and for the Georgians to decide. As for Putin or Medvedev, they will not last as political figures forever either; a young, modern educated elite will arrive in power positions in Russia. Relations between countries are run by interests. Of course, the relationship between leaders and politicians can positively or negatively affect the state of affairs between countries. But in the long term relations between neighbors will be shaped by a balance of mutual interests. This will happen with Georgia and Russia too.
What are, in the short term, the interests of the German Embassy in what direction to develop our bilateral relations?
We work towards strengthening and deepening our good and mutually beneficial relations. I repeat: Georgia's continued independence and territorial integrity is very dear to the heart of my government. We therefore work closely, for example, with the ministry of reintegration. We support both the state strategy and action plan and are interested in their successful implementation.
I already mentioned our engagement for better and more economic cooperation. The support the German Business Association lends here is very helpful indeed.
I draw your attention to the various German cultural activities and offers and opportunities to learn German. The Goethe Institute is active with an interesting cultural program. We have just inaugurated our new German International School Tbilisi (www.deutscheschule.ge). More can and should always be done. In cooperation with the city of Tbilisi we will present Germany and our cultural achievements over a couple of days in May next year. Next year we can also jointly celebrate the 20th anniversary of Germany recognising Georgia's second independence within 90 years as the first state. I hope I can also revive the legacy of the small German minority in this country.
Personally, I would love to see Georgia to become even better known in Germany. Many people are aware of Georgia, they know about the fascinating and unique history, the cultural richness, the thrilling archeological findings, the natural beauty of this country, the tradition of the Georgian film and polyphonic music, but this is still a minority. Today, other things count as well: Georgian soccer players in the Bundesliga help very much to popularise your country at home.
I remember that one of your first receptions in your residence was connected with the number of Georgian students and scientists going to Germany for studies, how do you comment on the further development of this direction?
I welcome the student exchange, because it is important. You are right: one of my first public appearances was to officially say goodbye to more than 100 students, leaving for Germany on scholarships granted by the German Academic Exchange Service (DAAD). The investment in the education of young people is key to almost everything. Georgian students going abroad to gain education in Western Europe, in particular in Germany, has a long tradition. In the past months I have met a lot of young Georgians who are extraordinarily impressive, brilliant and intelligent, and speaking perfect German. These young people are Georgia's human capital to face and overcome the challenges of the globalised world. Today, the influence of a particular nation in the world is measured not any longer according to the size of the army; the key question today is: how and what can a particular country contribute intellectually, scientifically and technologically to solving the common problems all of us are facing worldwide. Georgia's contribution lies in its people, their brightness, intelligence, creativity and innovative approaches. My country is happy to promote this potential of yours by inviting them, as we have done for the last 100 years, to continue their education at our universities.
What is the progress Germany has achieved in the last 20 years after the reunification?
When I started my professional life as a young man, the thought of German reunification was something quite extraordinary, more a dream than a real hope. But Germany has regained unity: thanks to our people in the East, who tore down the wall, but also thanks to our friends and partners in East and West who politically and morally supported us and for which we are grateful. We have managed the process of reunification quite well – especially against the background that such an effort was really unique. I am personally convinced that key to and precondition for the successful management of the reunification process was the early and successful merger of the two German armies, which went smoothly and almost unnoticed. Problems, mainly social ones, still do exist, of course, the process of regaining full internal unity isn't completed yet and it remains to be a task of national dimension for quite some time to come.
I have heard that Eastern Germany was slightly lagging behind economically and it was very difficult for Western Germany to integrate the people who were brought up in a communist way of planned economy
This is true. The GDR was erroneously considered to be one of the leading industrialized countries in the world, it was considered to be one of the most economically powerful communist economies after the Soviet Union. I have seen statistics in the late 80's according to which the GDR figured among the top ten economies of the world. These statistics obviously proved to be wrong, when we set out to integrate the two economies and the two economic systems 20 years ago. The whole economy was in pretty bad shape. The introduction of the capitalist economic market system into the GDR territory caused problems – many factories had to close down, many people lost their jobs. The terms of the monetary union were, economically speaking, doubtful; but they were clearly politically motivated.
Georgians say that one Georgian divided Germany and another reunited it
This is very nicely said, I like it, but the situation is a little more complex. But it is a fact that your late President Schwardnadze is still highly respected in my country for his contribution to overcoming the political divide in Europe and Germany. That's not least one of the reasons why Georgia enjoys so many sympathies in my country.
Is there anything you would like to convey to our readers?
First I would like to convey that having been here for only five months I would like to thank your compatriots for the warm and welcoming reception I have had here. It is really very pleasant indeed to come as a German and work here as a German. Georgians have a reputation to be friendly and welcoming and I felt this to be absolutely true. The policy of open doors towards Germans of course goes hand in hand with pretty high political expectations. Second, I want to convey to your countrymen, and also to the political leadership, that the example of Poland in the 18th and 19th century and that of Germany in the 20th century testifies to the fact that you cannot artificially keep a country divided against the will of the majority of the people; so this gives hope that in the 21st century Georgia will have the same positive experience that we had in the 20th. Thirdly, I would also like to convey my deep gratitude for the support that we have received from our friends and partners in the transatlantic community and the EU, but also from our neighbours in the East during the political processes leading up to German reunification. Without them and their support we would not have managed to become reunited again.