Rasmussen's visit – an "important political signal"
By Mzia Kupunia
Monday, October 4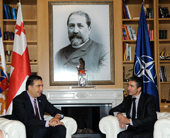 Last week's visit to Georgia by the NATO Secretary General was an "important political signal", according to Georgian politicians and analysts. Ruling party members hailed Anders Fogh Rasmussen's reiteration about Georgia's NATO membership prospects and his position on NATO-Russia relations. "Rasmussen clearly stated that NATO-Russian relations will not be improved at the expense of Georgia's interests and the principles of international law and values," Georgian Parliament Speaker, Davit Bakradze said after the meeting with NATO Secretary General on October 1.
Rasmussen's visit to Tbilisi was an important political message, according to Georgia's NATO Ambassador, Grigol Mgaloblishvili. "This proves NATO's special interest in Georgia," he said. Meanwhile Georgia's State Minister for European and Euro Atlantic Integration, Giorgi Baramidze pointed out that the NATO Secretary General's visit indicates the Alliance's respect for Georgia's territorial integrity and sovereignty. "NATO has given Georgia the chance to get all the instruments to reach NATO standards and become its member after accomplishing all the necessary reforms," the Minister noted.
Some politicians have suggested that Rasmussen's visit should be discussed in the context of the upcoming NATO Summit in Lisbon. "The NATO Summit is approaching, where a new strategic idea will be adopted. We should discuss Rasmussen's visit to Georgia in this context," MP from the ruling National Movement Party, Davit Darchiashvili said, adding, "At the same time, intense cooperation is in progress in terms of NATO-Georgia and the Annual National Plan. This visit is an indication of the fact that Georgia has an important place in NATO's strategic vision."
Georgian politicians commented on NATO-Russia relations as well, saying that the dialogue regime between Russia and the Alliance is "essential" for Georgia's security. "The dialogue [between Russia and NATO] is important in order to force Moscow to fulfill its commitments. This is crucial in terms of more security guarantees for Georgia," MP from the parliamentary opposition group, Christian-Democratic Party, Giorgi Targamadze said after Friday's meeting with the NATO Secretary General together with Parliamentary Speaker and other MPs.
Georgia's former UN Ambassador, leader of non-parliamentary opposition United Georgia-Free Democrats Party, Irakli Alasania also assessed the NATO Secretary General's visit to Georgia as important. He however noted that the visit or work of the NATO-Georgia alone is not enough to guarantee security in the region. "The government should work on developing regional security, on activating EU representation in conflict zones and starting step-by-step dialogue with Russia," Alasania told journalists.
Meanwhile some Georgian analysts stressed the importance of the opening of a NATO Liaison Office in Georgia. Military Analyst, Irakli Sesiashvili said when any organisation opens a Liaison Office and sends its diplomats and allied officers to the country it is implicit that the country is of particular interest to the organisation. "It means that the organisation is planning to activate certain projects and programmes in the country. At the same time NATO will have more supervision on Georgia to see how the annual plan is progressing. Our executive government will not have to contact the Alliance through the embassies, they now will be able to contact NATO officers directly," the analyst noted.
Analyst Torknike Sharashenidze suggested Rasmussen's visit indicates that "Russian blackmail" is not working. "By annexing Georgia's territories, Russia did its utmost to stop Georgia's NATO integration. However, when Rasmussen visits Georgia and makes very positive statements in his address, it is a very serious political gesture," he noted, adding that by now Georgia will not be able to join NATO, however "when such moves are made, it means that one day everything will be fine."
As part of his one day visit to Georgia, the NATO Secretary General met the Georgian President, the Parliament Speaker, as well as the Foreign and the Defence Ministers. During his joint press conference with Mikheil Saakashvili at the Presidential Palace, Anders Fogh Rasmussen reiterated that "NATO stands firm in its commitments to Georgia." "Our position remains the same as the decision we took in Bucharest in 2008 , where NATO decided that Georgia will become a member of NATO providing of course that it fulfills the necessary criteria. We will assist you in reforming your society and to meet the criteria and we look forward to continue our cooperation within the NATO-Georgian commission. I am very happy that I have been able to inaugurate the NATO Liaison office here in Tbilisi today in the partnership between Georgia and NATO," the Secretary General stated, adding that the Alliance "insists" on full respect for Georgia's sovereignty and territorial integrity and non-recognition policy. Rasmussen called on Russia to fulfill its commitments according to Medvedev-Sarkozy 6-point agreement.
The NATO Secretary General touched on the issue of NATO-Russia relations, saying that the Alliance's intention is to improve relations between Russia and NATO. "I do believe that it is in our mutual interest and it is also in the interest of Georgia," he noted "I think we should develop practical cooperation with Russia in areas where we share security interests, counter-terrorism, counter-narcotics, counter-piracy and I would also mention missile defense as an area where we could and should cooperate with Russia. I do believe that Russia's future lies within positive cooperation with NATO and the EU. My vision is to see the development of a true Euro-Atlantic security architecture, where also Russia and Georgia can live in peace and harmony with each other," the NATO Secretary General added.