Tbilisi unchanged over Russia WTO entry
By Mzia Kupunia
Wednesday, October 6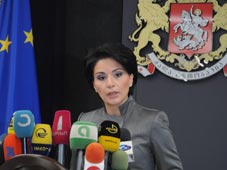 Georgia will not support Russia's World Trade Organisation accession unless Moscow fulfills the conditions set by the Georgian government, President Mikheil Saakashvili's press spokesperson, Manana Manjgaladze said on October 5. Her comment followed statements by Russian officials last week that Russia and the United States have "settled all issues related to Russia's accession to the WTO".
"As the presidents of Russia and the US had agreed, talks were supposed to end in September as the bottlenecks in our relations with the US have been removed. I must say that this was supposed to happen before the end of September. We succeeded in doing it yesterday," Russia Today quoted Russian Finance Minister, Aleksey Kudrin as saying on October 1.
A member of WTO since June 2000, Georgia has the right to veto the entry of any new member to the organisation. Meanwhile, Russia has been trying to join the organization since 1993. "The position of the Georgian government is unchanged," Saakashvili's press speaker reiterated at regular press briefing on Tuesday "Georgia will not support Russia's bid to join WTO until all the conditions that the Georgian government is setting are met, including the issue of customs offices [in Georgia's breakaway regions] and a number of other issues regarding Georgian-Russian relations," she said.
One of the main conditions set by Tbilisi not to veto Russia's WTO entry is that Moscow should "respect Georgia's state interests and the rules of international law," according to the ruling party MPs. Chairman of the Parliamentary Committee on European Integration, MP David Darchiashvili told
The Messenger
in September that de-occupation of Georgia's territories is Tbilisi's primary demand. "Tactically, this could be broken into several stages – allowing international observers into the occupied regions, letting the IDPs to return to their homes and eventually withdrawing Russian troops from Abkhazia and Tskhinvali region," Darchiasvhili said, adding that "some action should be seen in this respect."
The Georgian President's press spokesperson commented on the demand of the Russian leadership and the de facto Abkhazian and South Ossetian authorities to sign a non-use of force agreement between Tbilisi, Tskhinvali and Sukhumi. "Georgia does not see the need to sign such a document," she said, reiterating the Georgian officials' demand on Russia's obligation to fulfill the 2008 ceasefire agreement. "In conditions when Russia is not meeting its commitments under the agreement, it is impossible to talk about a non-use of force agreement," Manjgaladze told journalists.
Ahead of the upcoming Geneva talks, the Georgian Reintegration Minister, Temur Iakobashvili also said that Tbilisi is not going to sign a non-use of force agreement. Meanwhile the Georgian Foreign Ministry reported that Georgia will raise the issues of returning IDPs to their homes and of implementing international security mechanisms in Georgia's breakaway regions. "We hope that we will achieve success at some point, because until now these talks have not been particularly positive. Despite this, we are doing our best to maintain Geneva format," Georgian Deputy Foreign Minister, Nino Kalandadze said.
The 13th round of Geneva talks is scheduled for October 14.