Vocational education promotes economy
Wednesday, October 6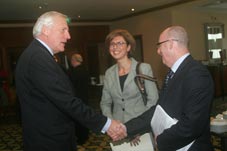 On October 5, the ongoing reform of the vocational education in Georgia was discussed at a conference organised by the European Union and the United Nations Development Programme (UNDP) in cooperation with the Ministry of Education and Science of Georgia.
With the focus on the need to form a new system of vocational education and training, the conference tackled a range of issues, such as: the amendments to the legislation; achievements and challenges of the reform; the role of international organisations in the reform process; and the prospects of vocational education in Georgia.
Addressing the conference, Deputy Minister of Education and Science of Georgia, Irina Kurdadze said: "Georgia, with its growing economy and a dynamic business environment, has tremendous potential for developing a strong and effective system of vocational education. To have a real impact, vocational education should respond to the needs of the country's economy and assist in diversifying our labour market."
The conference brought together representatives of the Georgian government, international organisations, the Georgian Employers' Association, the Georgian Trade Union, as well as directors of professional colleges and business companies. The participants agreed that an effective system of vocational education can promote local industries and lay the basis for economic advancement.
"The European Union welcomes the progress made in the area of vocational education in recent years. We will continue our direct budget support and technical assistance to the implementation of the Georgian Government's Strategy for Vocational Education in 2009-2012," Head of the European Union Delegation to Georgia Ambassador Per Eklund said.
Jamie McGoldrick, Head of UNDP in Georgia, stressed the importance of vocational education and professional training for reducing poverty and improving employment prospects.
"UNDP has been supporting the development of vocational education in Georgia since 2006. We work closely with our national partner – the Ministry of Education and Science of Georgia, to introduce new educational and re-training programmes, refurbish and equip training centres, and open new training sites," he said.
The conference on vocational education was organised as part of the initiative "Early Recovery Efforts in Georgia". With Euro 4.4 million in EU funding, it was designed to provide more income generation opportunities and to encourage economic development in the regions affected by the August 2008 conflict – Shida Kartli, Samegrelo and Mtskheta-Mtianeti.
The initiative has benefited thousands of people while rehabilitating crucial infrastructure, such as school buildings and water supply systems; assisting small businesses; and organising professional training and vocational education courses. The 2-year programme will be finalised in October 2010.