Is a United Opposition possible?
By Gvantsa Gabekhadze
Thursday, October 7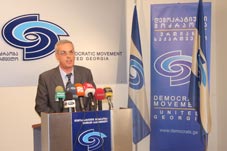 The Elections code remains one of the most debated issues for the Georgian Opposition; however achieving consensus on the matter seems to be difficult not only with the authorities, but also among the various Opposition factions. In addition, the process of unifying is still a problem within the Opposition sector
"The renewed initiative put forward by the Opposition concerning the elections code, does not significantly change the real picture, even though, after our criticism some amendments were added. Some points in the document make us think that the Opposition is negotiating with the authorities, such as the rules for discussing election disputes, the Central Election Commission and other systems for forming the election administration. In those rules, the role of so called qualified subjects is very significant. Our colleagues forget that there is authoritarianism in the country and a serious part of the system is filled by so called Opposition parties that are dealing with the authorities, with 90 % of the so called qualified subjects from those parties," Giorgi Kobakhidze, member of Democratic Movement-United Georgia, stated. He also pointed out what might be the indicators of real changes in the code, "For real changes in the elections code, impartial courts, free media and business and the de-politicisation of law enforcement forces are necessary," Kobakhidze stated. He said the main issue that the opposition should concentrate on at the present moment is the Public Representative Assembly.
The importance of the Public Representative Assembly was also been emphasised by the leader of the Movement for Illegal Prisoners, Eka Beselia. She stated the Assembly will present its agenda on November 25. "Some of the Opposition have refused to attend the Assembly's preparatory meeting. When the Opposition is prepared to collaborate with the authorities concerning the elections code, they should also attend those meetings in where the public opinion is of key importance," Beselia said.
Some Opposition members are more optimistic. "I hope that the authorities and Opposition manage to agree on the issue and the amendments will be included in the election code," Kakha Kukava, from the Conservative party stated. There are also some oppositional parties that have not yet given a fixed opinion regarding the issue, possibly because of some structural and maybe ideological changes. On October 6 the former Defence Minister of Georgia, Irakli Okruashvili, officially left his party Movement for United Georgia, and there are speculations surrounding the new coalition created by Okruashvili, leader of Defense Georgia, Levan Gachechiladze and former Ombudsman, Sozar Subari. How the situation will develop, Okruashvili stated, will be announced shortly.
As for the authorities' attitude towards collaborating with the opposition on the elections code, MP, Nugzar Tsiklauri told
The Messenger
. "The process of working on the changes to the election code, started a year ago, with nearly every political movement and analyst involved. There is a quite positive experience of cooperation between the government and the Opposition, however they should not present ultimatums as the ultimatum tone is not conducive to achieving positive results."
Analyst Soso Tsiskarishvili told
The Messenger
, "The Opposition's demands concerning the elections code might be satisfied, maybe not fully, but for the most part as the Opposition is working with international organisations, so I think it will be difficult for the Government to deny them."