Georgian citizens detained in de facto South Ossetia
By Mzia Kupunia
Thursday, October 7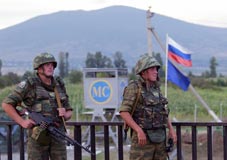 Russian border police deployed at the administrative border between Georgia and its breakaway region of South Ossetia detained two Georgian citizens on October 5 on charges of "illegal border crossing". Both were detained in the village of Akhmaji, Akhalgori region, according to the RES information agency. "They were chopping wood on the territory of South Ossetian Republic, 500 metres from the state border," the press service of the Russian Federal Security Service Border Department in de facto South Ossetia reported on Monday. According to the press service, the detained men, who identified themselves as Georgian citizens, carried no identity documents.
The previous day, again, according to the RES information agency, Russian border police detained a citizen of Georgia on "illegal border crossing" charges at the village of Artsevi, Tskhinvali region, 350 metres from the administrative border. The Russian Federal Security Service Border Department reported that he was not in possession of any identification. "The detainee identified himself as a Georgian citizen and said he was going to the village of Artsevi." Earlier on September 30, a citizen of Georgia was detained at the village of Orchosani, Akhalgori region, 50 metres from the "state border" according to local de facto authorities. The detainees were handed to the de facto Border Department of South Ossetian Committee for State Security (KGB), RES reported.
So far Georgian officials have not made any statement about the detention of Georgian citizens. Despite The Messenger's repeated attempts, Interior Ministry officials were unavailable for comment.
Meanwhile the third round of meetings with the International Committee of the Red Cross was held in the village of Ergneti on Tuesday between the Georgian, the Russian and the de facto South Ossetian sides. The meeting took place is part of the mechanisms being used to find missing persons during and after the August conflict in 2008, according to Ossetian news outlets. "We discussed the report of the Council of Europe Human Rights Commissioner, Thomas Hammarberg. We provided additional evidence about the missing South Ossetian citizens Khachirov, Khurgaev and Pliev, as well as Kabisov. There is testimonial evidence given by our citizens, who were detained with them in Georgia and later exchanged for Georgian soldiers," Merab Chigoev, the de facto Deputy Representative of the so called South Ossetian president said, adding that all "South Ossetian citizens" missing after the August 2008 conflict are civilians.
Chigoev said that if the meetings have no "future prospects", the de facto South Ossetian side will stop participating in them. "There is a hope that very soon we will receive a response to our legal demands from Georgian law enforcement agencies and from the Georgian authorities participating in these meetings," RES quoted Chigoev as saying. "We have demanded that the Georgian side thoroughly examine our demands and provide us with information about our citizens being detained by Georgian law enforcement agencies. Otherwise, we see no reason for continuing these meetings." he added.