Health Minister's new Prescription
By Salome Modebadze
Thursday, October 7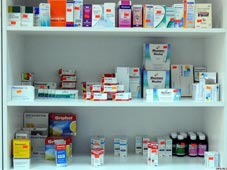 Andria (Sandro) Urushadze, the Minister of Healthcare, Labour and Social Protection presented representatives of pharmaceutical companies with the new initiative of the medical system on October 6. Urushadze spoke of importance of issuing prescriptions for medicines at pharmacies while basic drugs such as painkillers or treatments for colds, flu or a fever can be sold without a prescription. In addition pharmacies and their staff would be strictly prohibited from cooperating with specific pharmaceutical companies or participating in advertising campaigns aimed at promoting medicines offered by individual pharmacological agencies.
According to the Minister, cooperation between the state and private sector to strengthen control of the medicine market will be an important basis for decreasing the number of the fake medicines. "We must succeed in matching the method of prescribing medicines with international standards so that the patients could know exactly what they are buying in pharmacies," Urushadze told the media.
Irakli Margvelashvili, Executive Director of the Georgian Pharmacologists Association told the media that cooperation between patients and pharmaceutical companies as well as doctors and the producing agencies should certainly be regulated in order to avoid bargaining between the sides for personal gain.
Founder of PSP Group, Kakha Okruashvili and Aversi-Pharm, Paata Kurtanidze expressed their readiness to promote the Minister's initiative. "We, the producers of medical preparations are interested in creating an ethically safe environment free of fake, smuggled medicines for further promotion of the pharmaceutical field," Okruashvili told the media. Claiming that the use of prescriptions is an important part of the official procedures hospitals should offer their patients, Kurtanidze stressed that restoration of this very procedure would secure the rights of the patients.
The Healthcare Ministry plans to impose international standards of prescribing medicines and introduce a joint strategy together with pharmaceutical companies against the spread of fake medicines. MPs will discuss the issues during the next two months so that the changes to the relevant sanctions for particular violations will all be considered for the Law on Pharmaceutical Activities to take effect in January 2011.
Talking to
The Messenger
Dodo Kakhidze, an experienced doctor welcomed the Healthcare Minister's initiative. "This is a very specific issue which needs careful cooperation between the parties. Pills sold in today's pharmacies may be dangerous for consumers who take them without doctors' advice. In addition, a medicine that has a positive effect on one particular patient may be absolutely negative for another," the doctor told us stressing that if this initiative had been restored years ago, many young people would have been saved from fatal addiction.