Education Minister in Estonia
By Mzia Kupunia
Friday, October 8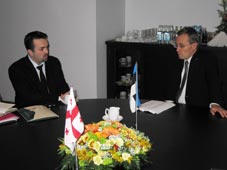 Minister of Education and Science of Georgia, Dimitri Shashkin paid an official visit to the Republic of Estonia. The Minister met with the Estonian Minister of Education and Research, Tonis Lukas. During the meeting the ministers exchanged experiences in IT and engineering and discussed cooperation in these fields. Estonia is successful in IT, so sharing Estonia's experience could be beneficial for IT development in Georgia. Reforms already in place in both countries were also discussed including cooperation with Tartu University. The Republic of Estonia will provide Georgia with assistance in implementing the EU programme 'Leonardo Da Vinci'.
The European Commission funded 'Leonardo Da Vinci' programme focuses on the teaching and training needs of those people involved in vocational education and training. Leonardo Da Vinci is part of the European Commission's Lifelong Study Programme for 2007-2013. It is designed to educate and equip qualified staff across Europe.
Leonardo Da Vinci enables organisations involved in vocational education to work with European partners, sharing best practice and improve the experience of the staff. This makes vocational education more attractive for young people and through mastering skills, knowledge and qualifications, the programme will advance the competitiveness of the European labour market.
Vocational education trainees and graduates as well as vocational education and training professionals and members of organisations actively involved in vocational education will be able to benefit from the programme.