First Low Cost Airline Company in Georgia
Monday, October 11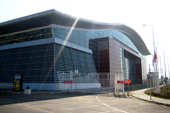 Due to the close cooperation between TAV Georgia and United Transport Administration and as a consequence of the joint efforts, from 9th of October 2010, first low-cost air carrier "Pegasus" will start daily flights to Istanbul's Sabiha Gokcen Airport. Pegasus will offer passengers affordable and flexible prices on tickets to Istanbul and to more than 100 different destinations of 17 countries.
As a result of TAV Georgia's numerous endeavors and efforts along with a number of negotiations held in different countries, the company managed to fuel the interest of low cost air-companies towards Georgian air market. The mentioned will facilitate the tourism development in Georgia, increase passenger flow and country's economic growth in whole. In this respect TAV Georgia and United Transport Administration carried out persistent and continuous joint works in order to ensure favorable conditions for air-carriers, which are pre-condition for attracting many other low cost air companies.
Air company "Pegasus" was founded in 1990 and has been a successful in Civil Aviation for 20 year. "Pegasus" is a member of IATA and conducts flights to more than 100 destinations in 17 countries worldwide. Its aircraft fleet includes 32 Boing-737 aircrafts of various modifications.
"TAV Georgia" has been the Operator of Tbilisi International Airport since 2005 and Batumi International Airport since May 2007. TAV Georgia is one of the biggest investors in Georgia, actively taking its part in the development of civil aviation in Georgia, supporting Georgia's government at in its efforts to expand the travelling and tourism opportunities and contributes to Georgia's civil aviation of by attracting many new air carriers to the Georgian market.