Free Tourism Zone for Kobuleti
By Salome Modebadze
Tuesday, October 12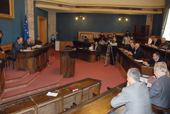 The Budget and Finance committee session of the Parliament of Georgia discussed the issue of a free tourism zone in Kobuleti on October 11. Gia Khuroshvili, the Parliamentary Secretary claimed that the number of people who wish to build hotels under this initiative has far exceeded the Government's expectations.
From the very beginning, September's announcement of the President of Georgia, Mikheil Saakashvili's initiative of a free tourism zone in Kobuleti rapidly ignited serious interest amongst both local and foreign companies. The Ministry of Economics and Sustainable Development of the Adjara autonomous republic placed all the essential information on their official web-site so that any interested parties have the opportunity to let the Ministry become acquainted with their proposals and make alterations to the project at their own discretion.
The free zone initiative enables companies investing more than 1 million Lari to obtain a plot of land for the symbolic price of 1 Lari, and releases them from all kinds of taxes for the following 15 years. Interested investors can submit application forms until the end of October 2010, and the hotels should be finished no later than August 1, 2011. Investors may have an additional 3 months for improving the hotels if necessary, but in all other cases their property will be confiscated.
The Budget and Finance committee is positive with the initiative and encourages it without any remarks. Commenting on how successful the Kobuleti free tourism zone will be for our country, majoritarian member of the Committee Eldar Kvernadze thought that the project will certainly be copied by other countries throughout the world.
Analyst Soso Tsiskarishvili spoke about the opportunities of the so-called free tourism zone, stressing that empty buildings are not enough for developing the country's economy. "This initiative has been introduced to attract foreign investors but the Government of Georgia has forgotten that investment is not just charity. If we want to see progress in tourism development let's first wait for the tourist season and then make suggestions," the analyst told
The Messenger
.
Sharing the experiences of the other countries and their tourism related issues, Tsiskarishvili said that they also have special projects. "The President's initiative is only aimed at inquisitive people with money kept under their pillows – people who will pay their tax debts. In the country with the population below the poverty line like Georgia, tourism development won't bring special benefits without improving the whole economic system," Tsiskarishvili told us explaining that economic development in Georgia will not be achieved unless a real trade market is created in the country.