UNIFEM hosts international conference in Tbilisi
By Salome Modebadze
Wednesday, October 13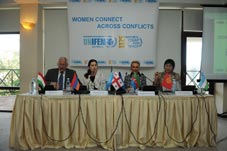 United Nations Development Fund for Women (UNIFEM) hosted an international conference enhancing the role of women in confidence and peace building processes at Betsy's Hotel on October 12. The cross-regional conference "Women Connect across Conflicts: Building Accountability for Implementation of UN Security Council Resolutions" commemorated the 10th anniversary of the adoption of Resolution 1325 on Women, Peace and Security by the UN SC.
Ambassador and Head of EU Delegation to Georgia, Per Eklund mentioned the importance of the conference and welcomed UNIFEM projects aimed at strengthening women's role worldwide. Women peace activists, gender equality and women's rights advocates from the South Caucasus and Central Asia had an opportunity to share their suggestions with the audience and call upon their Governments to improve implementation of the resolution on a national level. Deputy Speaker of the Parliament of Georgia and the Chair of Parliamentary Council for Gender Equality, Rusudan Kervalishvili expressed the readiness of the Government of Georgia to participate in programmes protecting the rights' of women.
Damira Sartbaeva, UNIFEM CIS Regional Programme Director explained the aims of the UN SC Resolution 1325 to
The Messenger
. "This resolution, dedicated to women's active participation in the post-conflict reconstruction processes tries to push Governments and parties involved in different armed conflicts to consider the special needs and interests of women and children affected by conflict," Sartbaeva told us explaining that the members of the conference would also launch a cross-regional program devoted to increasing the capacity of women in gender equality and human rights' issues. "All the women engaged in these processes will try to find wise solutions concerning the cross-regional issues. I hope they will contribute to the programme funded by the European Commission in eight countries affected by conflict and find practical bases on how to implement this very interesting program," she added.