PACE suggests Special Hearings
By Gvantsa Gabekhadze
Friday, October 15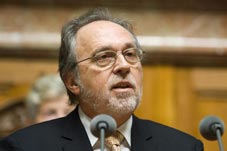 "Confrontation must give way to dialogue"- The Chair of the PACE Monitoring Committee Dick Marty, stated on October 12. For this reason a special hearing might be scheduled by the Committee for representatives of the Georgian and Russian governments, Ambassador Heidi Tagliavini (the author of the report on how the war started, which was recognised by both sides as impartial) and the EU and UN co-chairs of the Geneva talks, as well as the head of the EU monitoring mission in the region, Council of Europe leaders, representatives of the European Parliament and the ICRC (International Committee of the Red Cross).
"The hearings, to be held by January 2011 at the latest, could help reduce the emotional impact of the war, which continues to be an obstacle to discussion, and clarify the current situation, including the situation on the ground. Armed conflict between two member states is an exceptionally serious development and its consequences are a priority for PACE and the Council of Europe as a whole," Marty stated. In addition he was authorised to make contact with the authorities of both states to draw up a list of useful questions for discussion and rapid settlement, as well as a roadmap to address the humanitarian situation, and the assessment of the situation with regard to the Assembly's three resolutions on the consequences of the war.
How useful might the hearing be is difficult to say, especially since current events and the visa free regime for the North Caucasus countries introduced by Georgia has caused strong statements from Russia recollecting the August 2008 war and once again accusing the Georgian authorities of initiating the war. "Saakashvili's regime cannot remain calm. They are trying to cause destabilisation in the North Caucasus. In addition this decision is done to try to draw attention away from the destructive policy the Georgian authorities having towards Abkhazia and South Ossetia. Russia welcomes a peaceful Caucasus and is against the threatening initial steps that Saakashvili made in 2008. He is the only one to blame for the breaking diplomatic relations with Russia and making obstacles for our citizens' relations," Foreign Minister of Russia, Sergey Lavrov said on October 14.
The Georgian side's attitude concerning the issue is remains the complete opposite, "The Russians were preparing for this war for three years. Incidentally Putin warned me: "we'll fight against you", threatening to arrange a similar scenario to Cyprus. It took place in 2005-2006 and then in 2008. He told me and NATO Secretary General Jaap de Hoop Scheffer, "If you don't change your mentality, we'll make a North Cyprus scenario". I asked him more about it: "tell us Mr. Vladimir Putin, what must we change?" He answered: "You'll be informed" and" we're still waiting," Mikheil Saakashvili stated in his October 13 interview with Ukrainian publication, Bulvar Gordona.
Analyst Nika Chitadze told
The Messenger
, "I welcome the initiative and think that it is an important statement, however I do not expect any radical decisions, like depriving Russia's right to vote. A similar precedent exists, when Russia was left without voting rights due to events in Chechnya in 2001. Since 2008, Council of Europe has adopted several Georgia supported resolutions, however Russia has also managed to get some COE representatives on its side. In this case, I wait for a pro-Georgian resolution to be adopted that is important in the contest of the so called information war between the sides; however I do not expect any radical decisions.'