Georgian Party vs. Public Assembly
By Gvantsa Gabekhadze
Monday, October 18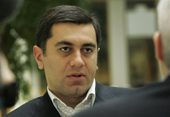 "We realise that this is the final battle, we have already sat in the boat, which will either reach the bank or will be sunk," one of the leaders of the newly formed Georgian Party, former defence Minister of Georgia, Irakli Okruashvili stated on October 15. He also mentioned revolution is not in the Party's interests. "Revolution is not our aim as we know it includes a lot of risks. We will choose this way only if there is no other option left by the present authorities. If anyone thinks that we are aggressors, they are mistaken, as we are people who realise their past and know how to oppose the present Government," Okruashvili said.
In addition Okruashvili thinks that any success against the present authorities can be ruled out without the Georgian party and said, "Without the Georgian party, victory is unlikely; if someone launches the fight without us, the battle will be useless," also mentioning that he soon be coming to Georgia, although he did not divulge the exact date. (Okruashvili has political asylum in France and has not been to Georgia for several years).
Relations between the new party and another opposition representative – the Public Assembly, appear to be predictable. "We are ready to collaborate with all forces that find the present regime unacceptable. Many respectable people are united in the Representative Public Assembly, however, as we have seen this movement is united around one political faction (that is Nino Burjanadze's Democratic Movement-United Georgia)," stated the former Defence Minister.
The Assembly's leadership assessed his statement as absurd. "I have no intention of commenting on such an absurd statement. I have the impression that the party is ruled by someone to oppose the idea of the Representative Public Assembly," commented Nona Gaprindashvili.
The Georgian authorities think little of the new party, saying that the Georgian Party will be unable to achieve any success. It is also difficult to say whether Okruashvili will actually manage to return to Georgia, as the authorities are threatening him with imprisonment. "He was sentenced to 11 years and as soon as he returns to Georgia, he will be jailed," said Shota Utiashvili, Chair of the Interior Ministry analytic department.
Analyst Irakli Sesiashvili told
The Messenger
, "The political situation in the country needs to change, as the present authority has formed an almost Bolshevik mode of governance. The fact that the present government does everything in its own interests is also the fault of the rest of the political spectrum, as they do not act appropriately. Thus the creation of political bodies such as the Georgian party is interesting; there are people in the party like Sozar Subari and Levan Gachechiladze that I know and respect. I will have the chance to comment on party perspectives once they become involved in political life." Commenting on Okruashvili's statement concerning the Representative Public Assembly, Sesiashvili said, "In this case I will give advice to the opposition in general. They should not make negative statements about each other as this reflects negatively upon them and in their results. They should pay more attention to political culture and be united on some common issues. I do not support the unification of different opposition political factions, but there are some issues on which most of the parties share a common attitude; they should be united around the issues and act more seriously in order to implement the common goals."