Sheraton Metechi Palace Hotel Community Service Activities
Tuesday, October 19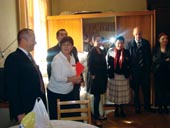 The Sheraton Metechi Palace hotel administration celebrated the Mtskhetoba Holiday (baptizing day of Georgia) with pensioners in the Katharzisi retirement home
As part of Starwood Hotel & Resort*, each year the Sheraton Metechi Palace Hotel completes several community projects including assisting socially vulnerable members of society as well as caring for the environment. Since our arrival in Georgia we've completed dozens of different projects:
- "Virtue for Virtue" retirement home - delivering essential food & drink products to 28 homeless pensioners in 2008 and 2009;
- Donation of food and drinks, linen, mattresses, blankets, pillows to IDPs staying in a neighboring school building for 2.5 months following the August 2008 war
- Cleaning and tiding different Tbilisi parks in support of global environmental activities.
- "House of Future" – home for homeless children - repairs and renovations of the heating system and children's bedrooms.
- "Check Out for Children" – for a number of years the Sheraton Metechi Palace Hotel has proudly led this global initiative in support of UNICEF's immunization and malaria programs for vulnerable children in developing countries.
- "Green programs" – Sheraton initiatives that aim to conserve energy and water, reduce waste and enhance indoor environmental quality for Starwood guests and associates alike, has managed to save to date over $27,000.
- "Warm Welcoming Dinner" for special state school #202 for children with sight problems on warm evening to celebrate St. George's day.
- Our Sheraton team joined Green Office of CENN (Caucasus Environmental NGO Network) providing them with thousands of paper for recycling to support green initiatives by the hotel management and to protect our environment.
- Sheraton Metechi Palace Hotel in collaboration with the city authorities, and the "Plant your own tree" project of the Ministry of Environment planted 100 seedlings on the slope near Georgian State University.
- Sheraton Metechi Palace Hotel supported International "walk to school" month to raise the awareness of citizens and our associates to support the safe and healthy walking initiative.
- Sheraton Metechi Palace Hotel joined the worldwide campaign on "Clean Up the World! Clean Up Georgia!" Clean Up actions in the regions were carried out in each administrative center with the support of local governments and CSOs.
Sheraton Metechi Palace Hotel is continuously evaluating ways to reduce its environmental impact in the community of Tbilisi. The initial aim is to build awareness amongst our associates in order to start them thinking along 'green lines' and be able to support the green initiatives of the hotel management.

In response to the "Katharzisi" marathon held on the international day of the retired with the slogan: "I will also get old" on the 13th of October, Sheraton Metechi Palace hotel associates team headed by General Manager Toni Toshev delivered useful crockery and bed enhancements for the retired and socially insecure people living in the Katharzisi home.

In addition to supplying the equipment, the Sheraton Metechi Palace Hotel associates treated the retired people to sweets: candies and pastries. They visited different rooms such as the lounge, where they played games, a TV room, performance room, library etc. In the performance room a trio of pensioners, pleased and proud to have an audience sang a couple of song for the visitors. The hosts shared their feelings, gratitude and challenges and expressed their satisfaction in having an environment where people of the same age can socialise.