Alasania meets US Atlantic Council members
By Gvantsa Gabekhadze
Wednesday, October 20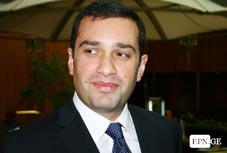 Leader of the opposition party, Our Georgia- Free Democrats, Irakli Alasania met with the delegation of the US Atlantic Council, on October 19. The main subjects for the meeting were the election environment in the country and the intentions of the opposition.
"This visit is one more sign that the complete political spectrum of the United States supports our country's democratic development and the holding of free and fair elections in Georgia. During the meeting we explained in detail the importance for changes in the elections code, along with the significance of Government's decision to hold negotiations on the issue with the opposition," Alasania said.
The party leader announced that the Council members were supportive of negotiations between the opposition and the authorities on changes to the election system. "The US Atlantic Council is on a study mission, after the visit they will write a report and present it to the American side. There will be information on the democratic situation in Georgia and what is needed from America, as an ally country to assist us," Alasania explained.
American support of Georgia was once again confirmed by US Assistant Secretary Philip Gordon's 18 October's statement regarding Georgia, in which he underlined that the United States was in favour of Georgia's aspiration to join the alliance. He also mentioned the importance of NATO-Russian relations, "Georgia's differences remain topical in the relations between Russia and NATO; however these should not be a reason to refuse relations with Russia, as agreement on issues that we currently have different attitudes on, might be achieved. NATO- Russian relations are important for international security," Gordon stated.
He also emphasised the role of the OSCE in providing security in the Caucasus and said the work of the international organisation was necessary for the transparency of situation in the occupied regions.
Analyst Nika Chitadze told
The Messenger
, "There a number of reasons why America is interested in Russia and Russian- NATO relations. Firstly the issue of Iran: Russia and Iran have good relations and it might be easier to influence Iran using Russia. Secondly, Afghanistan: if the US has normal relations with Russia, it will be able to transport military equipment to Afghanistan via Russia. In addition Russia and America possess nearly 95% of the world's nuclear arms and collaboration as part of a strategic partnership document is significant." He went on adding, "The more Russia depends on the west, the better for Georgia. There is some speculation that American-Russian relations might be an obstacle to US-Georgian collaboration, however, I think that it is far from reality. America will always be interested in Georgian issues."
According to analyst Soso Tsiskarishvili, "The project suggested by the opposition regarding changes in the election code is feasible. I think that the authorities will have to collaborate with the opposition on the issue, as the opposition representatives are acting with the support of international organisations. "