New Project driven towards Youth Development in Georgia
By Salome Modebadze
Friday, October 22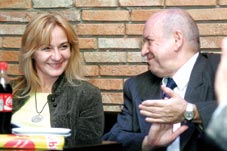 The Georgian Federation of Children and the Romanian Foundation "Our Children" with support of the United Nations Development Fund (UNDP) and the Government of Romania launched a joint program in the frames of the UN Week events at Magti Club on October 21. The project "Facilitating Greater Civil Engagement of Youth" aims at raising the role of youth in the development of the country which is among the main challenges of the Millennium Development Goals (MDGs) of the UN.
Maka Kepkhadze, the Deputy Chairperson of the Georgian Federation of Children, spoke of the importance of raising the youth's awareness and responsibility of their roles in the civil society through various initiatives like a series of seminars for high school students, training programs for peer educators, joint summer camps and exchange study tours to Georgia and Romania. An information centre and a hotline to help young people with assistance and advice will also be provided.
"This project is devoted to youth in general. I was very impressed to hear about all these interesting activities introduced by the sides oriented on raising civil awareness and developing cooperation between Georgian and Romanian children in different ways. Romania has been the first country to recognize Georgia's independence and its territorial integrity. We have souls and hearts open to Georgia and we will be together in NATO and EU sooner or later," Dan Mihai Barliba, Ambassador of Romania to Georgia told
The Messenger
.
Inita Paulovica Deputy Head of UNDP Georgia explained that the civil education of young people would give them an opportunity to obtain all the necessary skills for becoming active members of society. "Being active requires relevant knowledge and with the different activities within this project, young people will have an opportunity to develop all the necessary skills for their future," she explained to us.
The Georgian-Romanian Youth Festival will conclude the program in August 2011 so that the young people from both countries will be taught how to become active citizens and get engaged in various aspects of social, political and economical life.