COATS Grand Finale, Thursday, October 21 at Child and Environment
Monday, October 25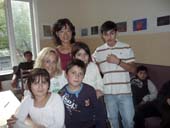 The community outreach project, COATS "Clothing Others Against The Snow", will host the project's grand finale on Thursday, October 21, 2010 at the Child and Environment Tsisartkela Day Center with an evening of clothes shopping at COATS Closet and a celebratory reception for the children of Child and Environment and the COATS student-volunteers from 1700 to 1900.
Uniting area schools together to involve students in service to others, Michele Dunn created the COATS community youth outreach project. COATS is an initiative aimed to educate, engage and empower area youth in service to others with respect and compassion. The foundation of this service project is to help our community youth mature and see the importance of being brave, to see possibilities where others see fantasy. By being compassionate towards others they will develop an increased awareness of the spiritual and emotional benefits of interpersonal relationships and the intangible values the human spirit has to offer.
The mission of COATS is to collect winter wear to distribute to over 120 children in need ages 6 – 18, many being homeless. The lack of family stability, a support system, and financial security are associated with these children; these deficits are most notable as the weather begins to cool. In support of Child and Environment's Tsisartkela Day Center and Beghurebi Night Shelter in Tbilisi and the Sapovnela Day Center in Rustavi, the students at New School took the lead for COATS with American Academy, QSI and the French School quick to participate. All schools and students are working hard together to reach a common goal, "Clothing Others against the Snow", COATS. Information flyers and posters designed by students Sandro O'Neill, American Academy, John Watson and Nate Watson, New School, were distributed at each school, as well as collection containers. COATS collection period was conducted October 13 – 20. On October 21, student-volunteers will help children shop at COATS Closet and everyone will join in a celebratory reception to conclude the extraordinary COATS' day. In support of the students and their community service, BP, Radisson Blu Iveria and UGT are proud sponsors of COATS
"I love helping people and I am proud to see that my friends and peers do to. It is great to see the whole student bodies of New School, Q.S.I, American Academy, and the French School taking part in COATS as a student community. At New School, my friends and I are lucky to be warm and cared for and so we are proud to have the opportunity to help other kids who deserve the same treatment but unfortunately don't always get it. We want to find more ways to help in the future, too! With every donation you make, one more child will be warm this winter!"
writes New School student, Charlotte Chirakadze. Her opinion is overwhelmingly shown and shared by her peers.
Founded in 1995, Child and Environment seeks to reach the estimated 1600 street children living in Georgia. With five day centers across the country Child and Environment aims to provide a working example of reformed rehabilitation standards as a model for future renovations in institutions and private-care facilities across the country.
Child and Environment hopes to secure resources to renovate its newly acquired building on Abastumani Street into an innovative, therapeutic home for Tbilisi's homeless youth. The Centre provides temporary shelter, family-focused intervention, counseling, healthcare, remedial tutoring-schooling and vocational training and has success stories to prove it. The recently reopened centre is home to more than 120 children. A private facility, Sparrows offers day and night care to poor, orphaned, disabled, street, and refugee children (age 6-18), by offering temporary shelter and family-focused intervention. The Day Center Tsisartkela was first relocated to Sparrows and in August 2010, the Beghurebi Overnight Shelter moved to Sparrows. The building was acquired through the Tbilisi Municipality in late 2009.