EU-UNDP Recovery Programme comes to an end
Monday, October 25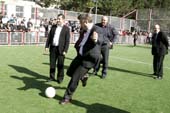 On October 21 Representatives of the United Nations Development Programme (UNDP) and the Government of Georgia visited Shida Kartli. They met residents of the region and discussed the results of the programme helping Georgia to recover from the conflict in 2008. Initiated two years ago, the programme is coming to an end this month.
The EU-funded programme addressed the immediate needs of the regions affected by the conflict. Its three components – vocational education, microfinance and rehabilitation of infrastructure – targeted priority areas agreed with the Georgian government.
The initiative benefited thousands of people in the Shida Kartli, Samegrelo and Mtskheta-Mtianeti regions while renovating school buildings, repairing irrigation and drinking water pipes, encouraging small businesses and organising professional training.
Speaking in Kareli at a newly-opened playground for school children, visiting Deputy Head of UNDP Regional Bureau for Europe and the CIS, Jens Wandel said, "We offered specific solutions, helped ease the crisis, and sought to assist Georgia in addressing the longer-term post-conflict challenges."
Together with Shida Kartli Governor Zurab Arsoshvili, UNDP representatives visited the settlements of the displaced, the villages of Teliani and Kareli, and the city of Gori. They met people who started small businesses and received professional education with assistance from the programme.
"Close cooperation with the government and local authorities was crucial to ensure a lasting and sustainable impact" said Jamie McGoldrick, UNDP Resident Representative in Georgia. He went on to say. "We are pleased that it has become possible to help people directly and to construct a bridge from recovery to long-term development."
With Euro 4.4 million in European Union funding, UNDP rehabilitated or fully rebuilt more than 20 infrastructure sites, such as water supply, irrigation and drainage systems, schools, and roads. It helped more than 3,000 people in 350 towns and villages receive micro loans and start small businesses. In order to improve employment prospects and boost local industries in the Shida Kartli region, UNDP launched more than 15 educational and retraining courses at Gori University.
The two-year programme will be completed in October 2010. The European Union and UNDP now aim to build on its achievements to continue assisting Georgia in the areas of economic development, income generation and professional education reform.