Moves towards a Transparent Media
By Gvantsa Gabekhadze
Wednesday, October 27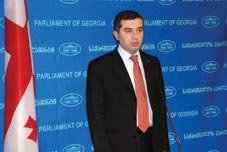 The owners of media organisations and the names of their financial backers must made known to the Georgian public; during the next two weeks parliament will work out a draft law to make media ownership fully transparent - Parliamentary Chair, Davit Bakradze initiated on October 26.
"Our society should have complete and comprehensive information about media owners, who is behind media organisations and how they are financed. This initiative is a part of our democratic reform package and it will be an advance towards democracy. I am not ready to speak about the details as the draft is not yet worked out, but offshore companies will either be banned from owning media organisations in Georgia, or media companies will be prohibited from withholding information about their owners and founders," Bakradze said.
President of Georgia, Mikheil Saakashvili responded to the initiative through his spokesperson Manana Manjgaladze, stating, "The initiative is the start of the second democratic wave in the country."
Ambassador and head of the Delegation of the European Union to Georgia, Per Eklund commented on the issue, saying, "This is a very important step forward for the development and advance of democratic values in the country. We welcome this initiative."
While the parliamentary opposition faction, the Christian Democratic Movement welcomed the initiative, the leader of the Movement, Giorgi Targamadze said that the decision was due to international pressure on the Georgian authorities, "Georgian media impartiality is in a shameful 100th position that is why I welcome the initiative. As it seems the authorities are more sensitive to international organisations than objective criticisms within the country."
Non parliamentary Our Georgia-Free Democrats also mentioned international pressure on the Georgian authorities caused this initiative. "This initiative is the result of international pressure. The same was demanded by our leader, Irakli Alasania and the issue is currently on the agenda of the authorities. Better late than never. We welcome the initiative and hope that the real owners will be made public," the party's press office stated.
Analyst Soso Tsiskarishvili told
The Messenger
, "There is no need for a draft law; they will only have to give the names of the owners and backers of the media outlets. They have made everything secret and hidden from the society; it is even hard to know the cost of 1 kg of flour imported and to get this information is some draft law needed? This is really a very funny issue to comment on."