Opposition leader's brother arrested on forgery charge
By Gvantsa Gabekhadze
Thursday, October 28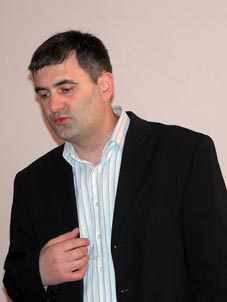 Vakhtang Subeliani, brother of one of the leaders of the newly founded opposition Georgian party, Sozar Subari, was arrested on October 27. Georgian opposition parties claim that it was an arrestment with political significance.
According to the official statement of the Constitutional Security Department they carried out a special operation and arrested six entrepreneurs suspected of financial machinations. The employees of Grand ltd, AMO ltd, Nero ltd, VV OIL ltd, and six other individual entrepreneurs have been arrested on suspicion of document forgery. Reportedly, these people inflicted serious damage on the state budget by using counterfeit invoices. The alleged crime by the suspects carries a sentence of seven years' imprisonment and The Constitutional Security Department is investigating the case. The arrested Subelini is one of the employees of AMO ltd.
The Georgian party has described the arrestment as political repression and blackmail, "our authorities are going on the process of arrestments with political motivation and using some kind of fabricated explanation. They are trying to frighten people in this way. That is why, we will do our best to remove this authority quickly and painlessly, "Koka Guntsadze, from the party, stated.
Georgian opposition Labour Party categorically demanded the release of Subeliani, "Lately, the criminal regime of Saakashvili has launched a new wave of aggression against political opponents, which has also been revealed in imprisonment of one of the leaders of the Georgian Party's, Sozar Subari's, brother. He has been arrested with a political motive," the party statement said.
A statement concerning the issue has also been issued by the opposition party Georgia's Way, "Such arrests and activities are targeted towards business destruction and against political opponents in the country. We appeal to the authorities to stop such repressions immediately."
According to Georgian authorities, there are no illegal prisoners in the country and people in the country are imprisoned as they have committed some sort of crime, regardless of his or her political persuasions.
As analyst Gia Khukhashvili told
The Messenger
, "In general, the threat that the Georgian authority could use the method of arresting people with political motives exists in the country and international organizations even talk about the issue. Herewith, we have political prisoners in the country. As for this concrete case, I can not be sure that it might be a political imprisonment as at the present moment I do not have detailed information on the issue. However, as I have heard, the general director and an accountant of the company, where Subari's brother works, have been released and Vakhtang Subeliani still remains in prison. In general, for such a crime, first of all the general director and the accountant carry responsibility and than the ordinary employees of the company or some other institution. If it turns out that they have been released and Subeliani has not, then there would be a high possibility, that this imprisonment is political."