Saakashvili broadcasts Georgia's economic growth prospects
By Mzia Kupunia
Friday, October 29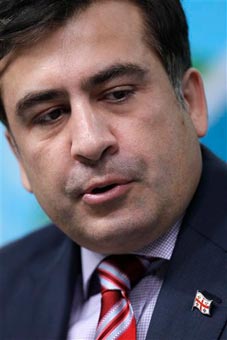 Georgia is on the "right track" in terms of economic development, Georgian President, Mikheil Saakashvili told CNBC television speaking live from Morocco, where he is attending the World Economic Forum on the Middle East and North Africa business summit in Marrakech. Investors from the Middle east feel "very comfortable" in Georgia, Saakashvili said, hailing the country as one of the "least corrupt" places in Europe according to EBRD and "rated as number one by the World Bank among Eastern and Central Europe and the Post Soviet countries in terms of ease of doing business."
The Georgian President stressed the strategic location of Georgia, saying that the country is becoming a "very important hub." "It is the shortest way from Northern China, Central Asia to most of the European destinations, but in addition Georgia is a hub for South and North and that's where the Middle East fits in, the South," he told CNBC.
Answering the question of what particular areas in which Georgia was interested when looking at the Middle East, Saakashvili responded that Georgia has a "very diverse" economy and that the investments are flowing into different fields such as infrastructure, tourism, energy, trade and agriculture. "This year we will have 6 percent growth of the economy according to the IMF, next year I hope we will get to 7-8 percent. But we should reach double digit growth, as we did prior to the crisis, which certainly hit us but much less than the other countries in the region," he stated "People are coming to invest in Georgia because it is an easy place to be, a safe place with five times less crime than in the neighboring countries like Russia or Ukraine," he added.
Despite the world economic crisis and the Russian-Georgian war in 2008, Georgia's economy is still growing, the Georgian President said. "There are countries that are emerging very well and there are ones which are so badly damaged by the crisis that there is a structural meltdown in a number of sectors," he suggested "Look at my country: we went through a full scale embargo from our main trading partner and full scale energy embargo," he noted, adding that the energy embargo made Georgian trade more diverse. "And then we went through war and then through the crisis and still we are growing. We made the government so efficient that it enabled us to grow," Saakashvili told the US journalist.
Saakashvili spoke about Georgia's economic growth expectations and "increasing" FDI on Bloomberg Television's The Pulse on October 27. "I think the FDI has been increasing especially late during the last two quarters and I am very optimistic about the outlook in a short-term recovery," he told Bloomberg's Maryam Nemazee. Saakashvili touched upon the issue of constitutional amendments as well, saying that "it is another example of why Georgia stands out in front in the region." "I mean we have the lowest corruption rate in the region, we have the lowest crime rate in the region, we have that easiest place to do business and finally we have come to the constitution. That more or less reflects the main stream of European democracy trends in developed European democracy that shows a new level of maturity and long-term stability for my country," the President added.
The World Economic Forum on the Middle East and North Africa region was held on October 26-28 in Marrakech. The forum brought together policymakers, business leaders and representatives of civil society in order to "reflect on a strategy of growth and development for the region in the context of the global economic crisis, the volatility of oil prices and water shortages."