TAV Holding in Georgia
Friday, October 29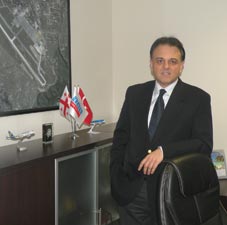 • Please give us a brief history of TAV Holding and TAV Georgia
TAV's history began in 1997 with the tender for Istanbul Ataturk Airport international Terminal. After being awarded the tender, Tepe and Akfen Groups established TAV as a joint venture. After the construction of the International Terminal of Istanbul Ataturk Airport was completed, TAV Airports was founded on 9th January 2000. TAV underwent restructuring in 2006 and organized its activities as "operations" and "construction" under TAV Airports Holding (TAV Airports) and TAV Construction. TAV Airports is celebrating its 10th anniversary in 2010.
Through the years, 14 companies were founded under the TAV Airports Holding, seven of which are project companies and the remaining seven service companies.
Tbilisi International Airport is TAV Holding's first project abroad and it has been operated by TAV Georgia since October 2005 and undertaken under the "Build-Operate-Transfer" model. The new passenger terminal constructed by TAV Georgia commenced service in February 2007. TAV Airports Holding has the rights to operate Tbilisi International Airport for 20 years. At the Tbilisi International Airport all operations inside and outside the terminals, ground handling services, duty free and catering services are administered by TAV Georgia.
Operating Tbilisi International Airport since 2005, TAV Airports continued its investment in the region and assumed the operation of the Batumi International Airport in May 2007. With its new runway, taxi route, apron and terminal building, Batumi International Airport is being operated by TAV Batumi Operations LLC, which is the subsidiary of TAV Airports Holding for 20 years.
• How would you describe TAV Georgia's role in the development of civil aviation?
I think that Civil Aviation in Georgia took a big leap forward in 2007 by opening two new international airports in Tbilisi and Batumi, hailed among the region's most comfortable and efficient terminals. The opening of new terminals has increased air traffic to Georgia, which is now served by national and foreign airlines.
At the same time, consistent economic policies in Georgia are producing strong economic growth in the country and consequently, TAV Georgia's goal is to contribute to the further development of Georgia and we intend to be the Caucasus' favorite airport through some of the actions we have been taking, as well as those coming in the future.
Located in the capital of Georgia, which is expected to become a significant bridge between Europe and Asia, TAV Airports Holding intends to use its experience in the aviation sector to accelerate the development of Georgia's civil aviation sector and contribute to the Georgian economy. Moreover, Tbilisi International Airport has an important and privileged place in fulfilling TAV Airport's vision of becoming a regional player.
• What have been the most important events on the Georgian air market in the last period?
TAV Georgia is actively taking its part in the development of civil aviation in Georgia, supporting Georgia's government in its efforts to expand the country's traveling and tourism opportunities and contributes to Georgia's civil aviation by attracting many new air carriers to the Georgian market. Hence, as a result of TAV Georgia's numerous endeavors and efforts along with a number of negotiations held in different countries, the company managed to fuel the interest of air-companies towards the Georgian air market. Recently, air-carriers such as LOT Polish Airlines, one of the oldest air companies with a large fleet and a network of scheduled flights to 50 cities in Europe and beyond started regular flights from Tbilisi. Moreover, recently the low-cost Pegasus Airlines started daily flights to Istanbul. Undoubtedly, these will facilitate the tourism development in Georgia, increase passenger flow and country's economic growth on the whole.
In this respect, TAV Georgia and United Transport Administration will continue to carry out persistent and continuous joint works in order to ensure favorable conditions for air-carriers, which are pre-conditions for attracting many other air companies. There are many good achievements on the horizon…
• Besides Tbilisi and Batumi Airports, which other airports does TAV Holding operate?
TAV Airports Holding operates Ataturk Airport in Istanbul, Esenboga Airport in Ankara, Gazipasa Airport in Antalya, Adnan Menderes Airport in Izmir, Habib Bourguiba in Monastir and Enfidha Zine El Abidine Ben Ali International Airport in Tunisia; Skopje Alexander the Great International Airport and Orchid St Paul the Apostle International Airport in Macedonia .