Farmers to Markets project thrives at Tbilisoba
Friday, October 29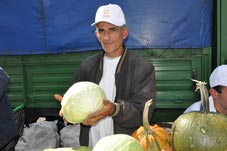 As the Tbilisi's streets were crowded with people celebrating Tbilisoba festival, Tsereteli Metro Station turned into a venue for a lively agricultural fair. The fair brought together over a hundred farmers from different parts of Georgia allowing them to sell their products and establish links with potential buyers.
The event was organized within the framework of Farmers to Markets (FtM) project by CARE International in the Caucasus with the support of Didube-Chughureti Gamgeoba. The fair allows the farmers to sell directly to the buyer cutting out the middle man and increasing revenues for poor households. Moreover, besides casual Tbilisi people who were happy to buy products from the farmers' hands directly, dozens of representatives of food chains industries, restaurants and supermarkets were invited to attend.
The fairgoers could observe and taste a wide variety of cheese and honey, buy potatoes, cabbages and carrots grown in mountainous regions and taste delicious Khvanchkara from Racha region.
"I love the fairs like this as the farmers sell the produce at much more affordable prices than in markets," says Neli Vashakmadze, 53, who bought a can of honey from Racha region.
Rusana Kondakhchian from the village of Kotishi, Kvemo Kartli, sold 40kgs cheese and other dairy products. "I sold my produce for almost double the price than I would be paid back in my village," she said.
"The agricultural fair was held for the second time and we've built much on last year's success. After Tbilisoba 2009 a number of farmers would approach us to share their positive feedback and requested to organize the fairs more frequently," said George Zakaidze, Farmers to Markets project manager.
The Farmers to Markets project assists small farmers in getting their goods to the market. The project seeks to bridge the existing gaps in the value chain between farmers and markets in Georgia and link up both ends of the production chain. Farmers to Markets" is part of the Community Development Initiative (CDI -2) funded by BP and its co-venturers in Baku-Tbilisi-Ceyhan (BTC), South Caucasian Pipeline (SCP) and Georgian Pipeline Companies.
"Fairs, trade shows and similar types of events are not only organized for the customers of Tbilisi, but have a spillover effect and aim at the capacity building of farmers to produce better and quality product, which is appealing to the local consumers and becomes competitive along with imported products vastly available on the market. Core purpose of the Community Development Initiative is to support the development of rural communities by opening new opportunities to them, introducing marketing strategies, better and more efficient production techniques and supporting them to adjust to the emerging needs," said Tamar Shukakidze, Director of Community Development Initiative.