Political Arrests?
By Gvantsa Gabekhadze
Monday, November 1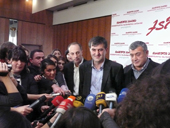 Imprisonments linked to the newly-founded opposition Georgian Party, continue. Following the arrest of one of the party leader's, Sozar Subari's brother, two representatives of the opposition faction, have been detained. The Opposition talks of repression from the authorities; however the authorities have given clear and simple explanations for the arrests.
One of the leaders of the Georgian Party, Koka Guntsadze, held an emergency briefing on October 30 in which he stated two representatives of the party's office had disappeared at dawn. The Georgian party appealed to the Public Ombudsman's office to ascertain the whereabouts of its two members. As it turned out that a bit later, the party members, Vasil Javakhishvili and Imeda Sisauri had been detained by the Interior Ministry.
The reason for their arrest was given in the Ministry's report: Javakhishvili and Sisauri were detained in connection with the explosions in Argo Street in Tbilisi on August 13 and September 14. Police detained Javakhishvili and his accomplice Sisauri who has previous convictions, when they were heading to the same address to commit another crime; they were armed with RGD 5 and F1 grenades. Automatic machine guns, pistols and ammunition were also seized as a result of a search of Sisauri's apartment. An investigation has been launched. If found guilty the accused face imprisonment of up to 10 years.
Opposition parties suggest there is just one reason why those people have been imprisoned. "Lately detentions of opposition representatives and those related to opposition parties have become more frequent. There are two reasons for this: to force the opposition to stop fighting against the authorities and secondly, to try to blackmail and create fear among the Georgian public. We appeal to the authorities not to strain the situation in the country," reads the statement of the National Forum opposition party.
Leader of the movement Solidarity to Illegal prisoners, Eka Beselia, said that Sozar Subari's brother, Vakhtang Subeliani, can already be regarded as a political prisoner. "The materials given the interior ministry against Subeliani are seriously doubtful. That audio material cannot be considered as proof against the accused. In addition the post Subeliani held in the company would not involve him being in touch with tax documentation. Thus he cannot be responsible for any violation in this area. Also he should not be detained over a GEL 373 loss for the state budget," Beselia said.
According to the MP Nugzar Tsiklauri, there are no political prisoners in our country; if somebody is arrested, it means that he has committed a crime. He told
The Messenger
, "People are arrested in Georgia as a result of the crimes they have committed. As for the statements by the opposition, we support the idea that every citizen of Georgia should be able to express an opinion openly, as we are creating a free and democratic country."
Analyst Nika Chitadze told
The Messenger
, "First of all, despite the party's name, I do not think they are oriented on useful issues for Georgia. I say this because, if we recall the past of some of its members, even Sozar Subari called Zurab Noghaideli (the leader of the Movement for Fair Georgia) an unacceptable political figure, yet now he is ready to collaborate with him. Clearly he is not stable in his political orientation. As for Vakhtang Subeliani, some question marks exist and the court should answer all the questions. Neither do I rule out the fact that some other party members have committed some crimes." He added, "I don't think there are political prisoners in the country. I am not saying we have a perfect democracy in Georgia, but I do not agree with the opposition's statements that those who have been detained are political prisoners. That is not true – all those people have committed some crime."