Who owns the Media?
By Salome Modebadze
Tuesday, November 2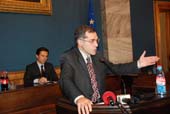 Media transparency was the main topic of discussion for the press association and media analysts at the extended session initiated by the Christian-Democratic Movement (CDM) on November 1. Discussing the legislative package with eight branches on media transparency worked out by the initiative group, the leader of CDM Giorgi Targamadze spoke of the necessity to improve the approach towards the transparency of how the media is financed. This obligation, according to Targamadze may have a negative impact not on the national but smaller TV stations like
Kavkasia
and
Maestro
. "The United National Movement (UNM) has no problems in showing the businessmen financing the national channels, while those supporting opposition parties may face some pressure," Targamadze stated.
Editor-in-chief of
Rezonansi
newspaper Lasha Tugushi stressed the importance of differentiation of the labour code regarding journalists. Explaining that journalists are not protected by the current legislation Tugushi worried that they have no great importance and influence in their jobs. Suggesting that the practice of registering media sources in offshore zones should finally end and banned by Georgian legislation Tugushi spoke of the danger of offshore territories where the great amount of money is being "blackened". "The local government of such places is not interested in the origin of this money, moreover one cannot find out the real owner of a company registered offshore," Tugushi said adding that all the shares of media companies should be completely transparent.
Disapproving of the unanimous ownership of media companies, the editor-in-chief of
Rezonansi
pointed out that the public should be aware of the individuals owning particularly influential companies which almost mould the country's social climate. According to current legislation a private entity or political party is prohibited from owning a media license while under the same law it is possible for a company of the same entity or party to have a license.
Media analysts also have doubts about the functions of the Commission Regulating Communications which is entitled to demand total changes within a particular TV company by modifying the license. Talking on the necessity to recognise the problem of non-transparency analyst Ramaz Sakvarelidze spoke of the importance of public access to information about media owners. "According to the practice of many countries people refrain from voting the particular political authorities when they become aware of their faults. When a person still votes for such a faulty power for GEL 20, the sense of transparency loses its meaning," Sakvarelidze said at the session.
The Parliament of Georgia continues to work on the draft law to make media ownership fully transparent. Unfortunately
The Messenger
was unable to obtain comments from the national TV stations' representatives but they should provide the public with information on the owners of media organisations and the names of their financial backers under the initiative suggested by Parliamentary Chairman Davit Bakradze on October 26.