Jazz Festival Rocks Tbilisi
By Diuana Dundua
Wednesday, November 3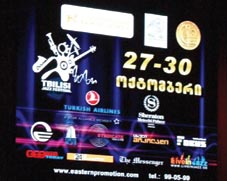 On October 27-30 the capital of Georgia hosted one of the biggest jazz festivals ever organised in the history of jazz concerts in the country, 13th Tbilisi International Jazz festival.
Four days of tasty music, high quality performances and non-stop entertainment gave jazz fans an opportunity to meet jazz legends on the stage of Tbilisi Concert Hall.
Traditionally, world jazz gurus have been invited to participate in this great musical event. McCoy Tyner and his Quartet featuring Gary Bartz opened the festival and for 4 days jazz legends including Diannne Reeves, The Jazz Crusaders, Rachelle Farrell, L'image, Christian Scott Quintet, The Syndicate and the Original Blues Brothers Band took to the stage giving unforgettable performances. Every concert was followed by jam sessions at Tbilisi Event Hall.
"All of these headliners are currently leading jazz musicians and I am very happy that Georgians have the chance to experience such high quality concerts every year," Minister of Culture and Monument Protection, Nika Rurua said on Saturday.
According to the festival organiser Misha Giorgadze of Easter Promotion these were the most popular professional jazz musicians worldwide.
As usual the 13th Tbilisi International Jazz Festival was organised by the company Eastern Promotion, supported by the Ministry of Culture and Monument protection and Tbilisi City Hall, as well as numerous mass media sponsors including
The Messenger
. The main sponsor of the event was Bank of Georgia.
"I am a great fan of jazz music and for me, similar concerts means a lot. I must confess that year by year I look forward to attending the jazz festival and I want to express my gratitude and respect towards the people who give us such opportunity," one of the concert attendees Ucha Metreveli told the paper on October 30.
"Make Your Life Jazzing!" – this slogan united all Georgian jazz fans while they experienced a week of stunning jazz rhythms performed by living legends.