Visa free travel between Georgia and Iran
By Mzia Kupunia
Wednesday, November 3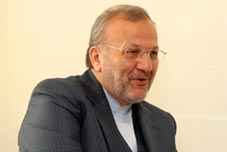 Tbilisi and Tehran will sign a visa free travel agreement, reported the Georgian Foreign Ministry. The agreement will be signed during Iranian Foreign Minister, Manouchehr Mottaki's visit to Georgia on November 3-4, Deputy Foreign Minister, Nino Kalandadze said on Monday.
According to the Deputy Minister, the document on launching a visa free regime between Georgia and Iran has been drawn up over the past few months; she described the decision of Tbilisi as a "purposeful" step. "We have reliable information that the number of Iranian tourists visiting Georgia has doubled recently. We are also interested in increasing trade turnover," Kalandadze told journalists "Consequently, we are trying to eliminate bureaucratic barriers as much as possible by signing the visa free travel document," she added.
Commenting on the Georgia-Iran visa free travel agreement, Manana Manjgaladze, the Georgian President's spokesperson said Georgia is interested in "deepening trade and economic relations with its neighbours, including Iran." "In order to deepen such relations, it is necessary to have a visa free regime between the two countries," Manjgaladze said at the regular Tuesday press briefing.
Some Georgian analysts have suggested that Tbilisi is using visa free travel agreement with Iran as a means to "slightly blackmail" Washington. "During Bush's term in office, Washington used Georgia against Russia, now Obama's administration has refused to use Georgia as an irritation for the Kremlin, and consequently the USA has lost interest in Georgia at some point. In signing the visa free regime agreement with Iran, Tbilisi is telling Washington, 'if you give up on me, I will give up on you too'," analyst Paata Zakareishvili told
The Messenger
.
Tbilisi also has a second, pragmatic reason for its decision, the analyst noted. "It has become clear that the Georgian population's expectations about simplified visa procedures with the EU were not fully met. So Georgia is now focusing on Arab states and South Asia. It is significant that lately President Saakashvili has been using the examples of Singapore and Dubai for Georgia to follow instead of let's say Switzerland. It means the Georgian administration has chosen development without democratisation," Zakareishvili said, adding that a visa free regime with Iran will be economically beneficial for Georgia since "many Iranian tourists will want to visit Georgia."
Georgian Deputy Foreign Minister dismissed the skepticism of analysts, calling it "ungrounded". "Georgia and the US are strategic partners. During relations with any third country, first of all the strategic partnership is considered, moreover when it comes to the US," she said "it is no secret that we greatly depend on the support of the US, and skepticism that we are putting our strategic partnership in doubt is completely baseless," Kalandadze added.
The Deputy Minister said the development of relations with Iran is happening "transparently" and is not an "irritation factor" for any other party. "We have no covert policy in our foreign relations with anyone, including Iran. We want to have good political and economic relations with all big and, especially neighbouring, countries. Iran is exactly one such state," she noted.
Meanwhile, on Tuesday, a day ahead of Iranian Foreign Minister's visit to Tbilisi, Airzena-Georgian Airways conducted the first direct flight between Tbilisi and Tehran for 10 years. According to airline officials direct flights between the Iranian and Georgian capitals will be conducted twice a week – on Tuesdays and Saturdays.